GORODISSKY & PARTNERS 
PATENT AND TRADEMARK
ATTORNEYS IP LAWYERS 
since 1959
Forum of Young Innovators and Inventors "Youth and Innovations"
28 November - 29 November 2018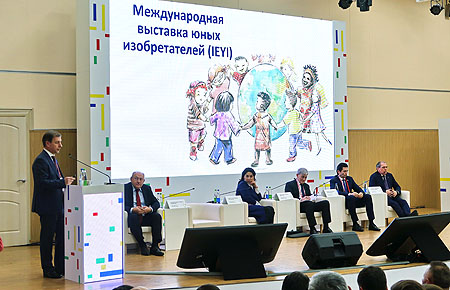 Valery Medvedev, Managing Partner, Russian & Eurasian Patent Attorney (Gorodissky & Partners, Moscow), took part at the Plenary session of the Forum of Young Innovators and Inventors "Youth and Innovations", organized by the Ministry of Economy of Tatarstan Republic, Tatarstan Center of Scientific and Technical Information and Society of Inventors and Innovators in Kazan.
Within the frame of the Forum leading IP attorneys and lawyers from Moscow, Kazan and Perm offices of Gorodissky & Partners held the Seminars "How intellectual property is created and operates in the modern world" and "Company's intellectual property and its protection in the global market".
The Forum was attended by over 500 participants - schoolchildren, students of youth innovation and creativity centers, children's technology parks, young innovators - representatives of universities and start-ups.
The International Exhibition for Young Inventors (IEYI) was promoted at the Forum because Russia will host the IEYI in 2020 in Kazan.
Back