GORODISSKY & PARTNERS 
PATENT AND TRADEMARK
ATTORNEYS IP LAWYERS 
since 1959
Gorodissky & Partners recognized as Russia Prosecution IP Firm of the Year
8 March 2018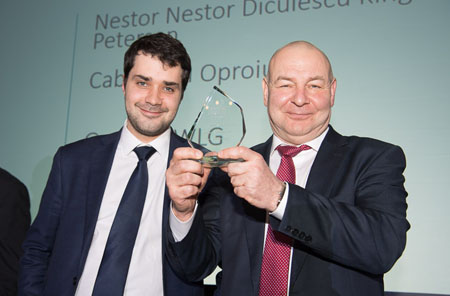 We are pleased to announce that internationally renowned MIP magazine has recognized Gorodissky & Partners as Russia's Prosecution Firm of the Year 2018.
The decision was a result of the annual world survey concerning work highlights and clients, as well as on feedback of the clients about the qualifications and experience of Gorodissky IP professionals
On 8 March 2018 at the Savoy Hotel in London, Sergey Dorofeev, Partner, Russian & Eurasian patent attorney, and Ilya Goryachev, Senior lawyer (both of Gorodissky & Partners, Moscow), got the award at the MIP ceremony. The award recognizes the achievements in IP work, and is a recognition of high professionalism and outstanding experience of Gorodissky IP attorneys and lawyers. It also confirms the leading position of the firm for services in the field of IP rights in Russia.
Back