GORODISSKY & PARTNERS 
PATENT AND TRADEMARK
ATTORNEYS IP LAWYERS 
since 1959
Seminar "Intellectual Property in the Activity of Companies"
25 April 2018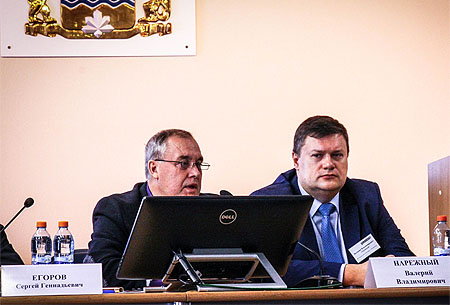 Elena Baikovskaya, Patent Attorney, Nikolay Raschupkin, Lawyer, Ekaterina Solonitsyna, Senior Lawyer, (all of Gorodissky & Partners, Ekaterinburg) and Valery Narezhny, Ph.D, Counsel, (Gorodissky & Partners, Moscow) spoke on "Utility models patenting after changes in the regulatory system on individual cases examples", "Some issues of intellectual property protection", "Service inventions. How to protect the rights of the inventor Intellectual property in corporate relations", "Taxation of intangible assets" at the Seminar "Intellectual Property in the Activity of Organizations", organized by Gorodissky and Partners in cooperation with Administration of Ekaterinburg and Ekaterinburg Center for Entrepreneurship Development.
The Seminar gathered about 75 attendees - representatives of industrial, commercial and service companies, research and financial organizations, business development consultants, heads of legal departments, lawyers, patent attorneys, patent experts, marketing and advertising specialists and brand managers.
Back