GORODISSKY & PARTNERS 
PATENT AND TRADEMARK
ATTORNEYS IP LAWYERS 
since 1959
Seminar "IP protection in Russia and abroad. New perspectives" in Kaliningrad
27 March 2018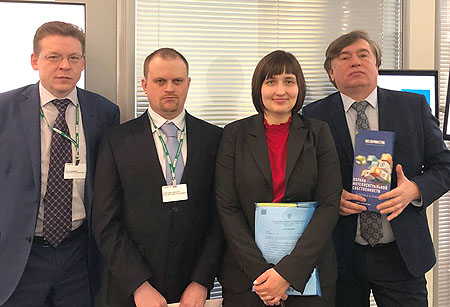 For the first time in Kaliningrad Gorodissky and Partners organized a Seminar "IP protection in Russia and abroad. New perspectives", in which attorneys of Moscow and St. Petersburg offices of the firm took part.
Valery Lyzhin, Trademark Attorney, Dmitry Yakovlev, Lead Expert, Russian & Eurasian Patent Attorney, and Yaroslava Gorbunova, Senior Lawyer, Trademark Attorney spoke on "Selection and registration of a trademark for its successful promotion in the international market", "Patent protection of inventions in Russia and abroad. The choice of a strategy for the protection of technical solutions in international patenting", "Counterfeit and parallel import. Interaction with customs and other authorities", "Transactions in the field of intellectual property: legal and practical issues". Yury Kuznetsov, Partner, Head of Patent Practice, Russian and Eurasian Patent Attorney took part as a moderator.
The Seminar was organized in cooperation with the Russian Export Center and Vedomosti publishing house and gathered over 40 attendees - representatives of industrial, commercial, service companies, R&D and financial organizations, business development consultants, heads of legal and R&D departments, lawyers, patent and trademark attorneys, marketing and advertising specialists, brand managers, etc.
Back