GORODISSKY & PARTNERS 
PATENT AND TRADEMARK
ATTORNEYS IP LAWYERS 
since 1959
Valery Medvedev awarded with EAPO Blinnikov Gold Medal
11 September 2017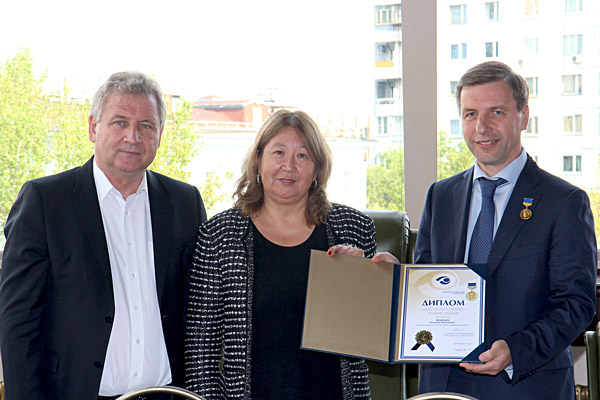 Eurasian Patent Office (EAPO) awarded Valery Medvedev, Eurasian Patent Attorney, Managing Partner, Gorodissky & Partners, Blinnikov Gold Medal to commemorate his contribution to the development of the Eurasian Patent Convention.
Our sincere congratulations!
The Blinnikov Gold Medal an Award of the EAPO dedicated to the memory and established in honor of the first President of the Eurasian Patent Office Dr.Victor Blinnikov, a prominent professional of the Russian and Eurasian IP law and practice.
The Medal is awarded to Specialists, inventors and organizations in the field of intellectual property who made significant contribution to the development of innovations and legal protection of patent rights in the Eurasian region.
Photo (from left to right): Dr.Grigory Ivliev, Chairman of the EAPO Administrative Board, Head of the Russian PTO, Dr. Saule Tlevlesova, President of EAPO, Valery Medvedev, Eurasian Patent Attorney, Managing Partner, Gorodissky & Partners
Back