GORODISSKY & PARTNERS 
PATENT AND TRADEMARK
ATTORNEYS IP LAWYERS 
since 1959
About us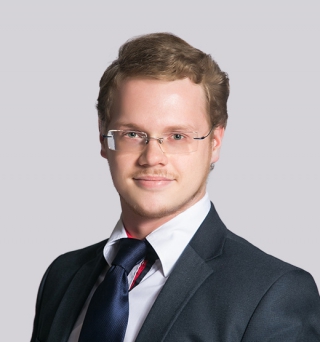 Veniamin Kazakov
Lawyer

Moscow
send message
Education

Russian Law Academy of Ministry of Justice of Russian Federation (2004–2010)

Experience

Gorodissky and Partners since 2010

Languages
Patent search in Russia and other countries and drawing reports according to Russian or foreign standards
Patent and statistical research in various technical fields
Patent and documentation search in Russia and other countries
Consulting on patent related issues
Presentations
"Information intelligence as a condition for the successful enforcement and protection of IP abroad" (Moscow School of Export training program "Legal protection of intellectual property subjects abroad", Moscow, November 2018)
"How to Collect the Information for Patent Rights Violations Determination" (16th annual seminar "IP protection strategies for successful company development", Moscow, April 2018)
"Business intelligence and its tools" (Seminar " IP Strategies for Company's Successful Development", Moscow, April 2015)
"Specifics of software and databases in IP legal protection, defense and licensing in Russia" (Seminar "Topic issues of IP rights protection. 2013–2014 practice" Ekaterinburg, November 2014)
"Business intelligence: opportunities and risks" (Seminar " IP Strategies for Company's Successful Development", Moscow, April 2014)
"Trademarks and advertising. Things to beware" (Seminar "Obtaining and enforcement of IP Rights in Russia", St. Petersburg, August 2013)
"Protection of IP by the Customs Intellectual Property Registry (Seminar " IP Strategies for Company's Successful Development", Moscow, April 2013)
"Legal aspects and peculiarities of franchising in Russia: theory and practice" (Seminar "IP Strategies for Company's Successful Development", Ekaterinburg, April 2013)
"Customs Union: views from Russia, Kazakhstan and Belarus" (Seminar "Obtaining and enforcement of IP Rights in Russia", Moscow, September 2012)
"Peculiarities of software legal protection, defense and licensing" (Seminar " IP Strategies for Company's Successful Development", Ekaterinburg, April 2012)
"Software and databases legal protection and licensing" (Seminar " IP Strategies for Company's Successful Development", Perm, April 2013)
Consulting a a Russian innovation company on building a patent strategy in Russia.
IP due diligence of a big Russian nuclear corporation.
IP due diligence of a large Russian pharmaceutical company to be offered for sale to a foreign company.
Advising a Russian representative office of a leading foreign company regarding registration of rights on company's service inventions.