GORODISSKY & PARTNERS 
PATENT AND TRADEMARK
ATTORNEYS IP LAWYERS 
since 1959
About us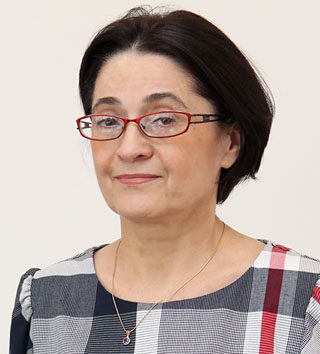 Svetlana Kuzminskaya
Ekaterinburg
Education
Ural State Mining University (1972-1977)
Russian State Academy of Intellectual Property (1979-1981)
Ural Federal University (2001-2002)
World Intellectual Property Organization (WIPO) (2003)
Experience
Mining machinery manufacturing science and research institution (Ekaterinburg) (1979-1982)
Central science and research laboratory of the Ministry of non-ferrous metallurgy (Sverdlovsk) (1982-1987)
Ural Manufacturing Enterprise "Vector" (1987-1990)
The Institute of Engineering Science, RAS (Ural Branch) (1990-1991)
Private practice (1991-2002)
JSC «Energomash – Uralelectrotyazhmash» (2002-2013)
Gorodissky and Partners since 2013
Languages
Trademarks and service marks
Industrial designs
Inventions and utility models
Computer programs and data bases
Registration and cancellation of trademark legal protection
Presentations
"Means of individualization" (seminar "Trademark - effective tool of competition", Ekaterinburg, April 2015)
Elaboration of application documents for a certificate of invention and patent research, including novelty examination of new equipment for mining and oil and gas industry.
Development of domestic regulations for company's inventions, utility models and industrial designs; remuneration payments for the authors; patent rights disposal.
Elaboration of paperwork procedures for the company's IP results recognition and accounting records maintenance of these results.
Consulting, patent search and analysis for a large regional furniture company. The documents were used in legal proceedings. As the result claim to the client has been rejected.
Consulting, search and IPRs analysis for one of Gazprom enterprises; providing recommendations on patenting of specific technical solutions.
Representation of a pipe fitting manufacturer in case of utility model protection; as a result, two judicial authorities made decisions in favor of the client.