GORODISSKY & PARTNERS
INTELLECTUAL PROPERTY
& TMT PRACTICE
About us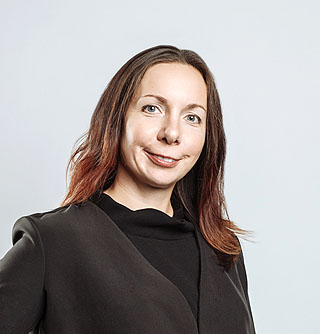 Elena Beloshuk
Attorney at Law
Counsel
LL.M.
Kyiv
send message
Education

Institute of International Relations of the Taras Shevchenko National University of Kyiv (1996-2001)
State Institute of Intellectual Property (2003-2005)
Law School of University of Amsterdam (2007-2008)
Academy of the World Intellectual Property Organization (WIPO) (2007-2008)
World Intellectual Property Organization (WIPO) and University of South Africa (2009-2010)

Membership

Association of Advocates of Ukraine

Experience

Gorodissky & Partners (2011-2017)
Advance Partners (2018-2019)
Gorodissky & Partners since 2019

Languages

English
Russian
Ukrainian
Trademarks
Copyright and related rights
Strategic consulting
IP transactions, franchising and distribution
Litigation and dispute resolution
Customs law and protection of IP rights
Anti-piracy and anti-counterfeiting
Advertising and unfair competition
IP due diligence
International private law

Membership

Association of Advocates of Ukraine
Trademark enforcement support to American and French companies in cases against former distributors.
Legal support to American, Japanese and European companies in a number of cases related to copyright and trademark infringement, against manufacturers and importers of counterfeit goods (toys, other consumer goods, spare parts etc.).
Represented several largest companies from Europe and USA in cases against import and sales of counterfeit goods.
Represented companies from the US, Europe and Japan, on law enforcement matters against unauthorized use of trademarks and company names in Internet, including the unauthorized use in the domain names.
Litigation support in trademark invalidation cases due to non-use.
Litigation support in trademark cancellation cases, on the ground of copyright infringement, infringement of rights to trademarks, unauthorized use of the well-known characters and their names.
Advising European and USA companies on IP licensing and franchising.
Transactional support for a large European sportswear manufacturer on a package of deals including a number of licenses and distribution contracts.