GORODISSKY & PARTNERS
IP & TMT LAW
About us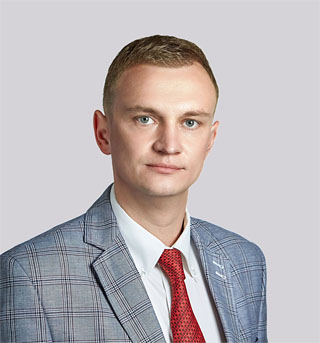 Maksym Bocharov
Ukrainian Patent Attorney
Head of Patent Practice

Kyiv
send message
Education

National Technical University of Ukraine «Igor Sikorsky Kyiv Polytechnic Institute» (master's degree, organic chemistry and technology of organic compounds, with honor, 2002-2008)
Kiev institute of intellectual property and law of National university «Odessa law academy» (master's degree, intellectual property, with honor, 2008-2010)
Academy of Advocacy of Ukraine (bachelor's degree, law, 2017-2020)

Trainings

WIPO Summer School on Intellectual Property (Odessa, Ukraine) (2009)
Boehmert & Boehmert (Munich, Germany) (2009)

Membership

Ukrainian Association of Patent Attorneys

Experience

Gorodissky and Partners since 2005

Languages

Russian
English
Ukrainian

Reference

WIPR Leaders
Best IP professional (Choice of Ukraine)
Strategic consulting
Patents and utility models
Industrial designs
Trademarks
Geographical indications
Conducting of patent researches
Trademark/company names/registered medicines searches
Freedom-to-operate searches and conclusions on patent infringement

Membership

Ukrainian Association of Patent Attorneys

Reference

WIPR Leaders
Best IP professional (Choice of Ukraine)
Presentations
"Neighbors to Eurasian Union: patent systems of Ukraine, Georgia, Mongolia, and Uzbekistan" (Gorodissky seminar "Expansion of IP Horizons in Eurasia", Moscow, April 2021)
"All you need to know about functioning of Eurasian, Russian and Ukrainian Patent Offices and Judiciary Systems during Coronavirus Pandemic" (Gorodissky Webinar "All you need to know about functioning of Eurasian, Russian and Ukrainian Patent Offices and Judiciary Systems during Coronavirus Pandemic", Moscow, Kyiv, April 2020)
Legal consultations/regulatory questions
Advising of foreign companies on intellectual property rights' protection in Ukraine and the CIS countries.
Advising Ukrainian clients on the legal protection of on protection of technical solutions Ukraine and the EPO.
Freedom-to-operate researches on pharmaceuticals and biologically active substances in Ukraine.
Software engineering for prosecution and maintenance of IP subject matters.
Advising of Ukrainian pharmaceutical manufacturers on the identification of technical solutions and obtaining of exclusive rights to industrial property objects.
Consulting international companies on compliance of patented chemicals with patentability conditions in order to build a defense strategy against the patent invalidation claims.
Deals/agreements
Representation of a large American pharmaceutical company in the Ukrainian PTO regarding assignment agreement registration for series of marks.
IP rights registration
Drafting and prosecution of patent application for pharmaceutical companies in Ukraine and CIS countries.
Drafting and prosecution of industrial designs for a Ukrainian dental company.
Conducting of trademark searches with the analysis of their eligibility for further registration in Ukraine and foreign countries in the name of foreign companies.
Trademark search and registrability analysis in Ukraine for an English company.
Representation of international companies' interests at Expert meetings and Board of Appeals of the Ukrainian Patent Office to obtain patent protection for chemicals, medicines and transgenic plants.