GORODISSKY & PARTNERS
INTELLECTUAL PROPERTY
& TMT LAW
About us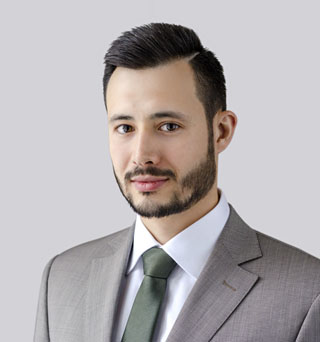 Ramzan Khusainov
Senior Lawyer

Kazan
send message
Education

University of Management «TISBI», Kazan (2006–2011)
World Intellectual Property Organization (2012)
Russian State Academy of Intellectual Property (2012–2013)

Trainings

Kuhner&Wacker (Freising, Germany) (2015)

Experience

Artpatent agency (2009 — 2013)
Gorodissky and Partners since 2013

Languages
Trademarks and other means of personalization
Geographical indications and appellations of origin
Domain names, electronic commerce and IT
Copyright and neighboring rights
Patent law and know how
Legal representation and dispute resolutions
Anti-counterfeiting
Protection of competition
Agreements on exclusive rights on IP objects
Publications
"Using a competitor's brand in contextual advertising may be a violation" (VC.ru, December 2020)
"Trademark in advertising: three rules that will save the owner from court" (VC.ru, November 2020)
"Judicial Jurisdiction in Cross-border Trademark Infringement Disputes over the Internet. US Experience" (E-Commerce and Related Areas (Legal Regulation): collection of articles edited by Doctor of Law Marina Rozhkova, Publishing house Statute, 2019)
"Grayscale: Trends in Parallel Import Disputes" ("Business and Law" Journal, № 2, 2019)
"Free use of the trademark on the Internet without the permission of the copyright holder" ("Patents and Licenses", № 11, 2018)
"Successful defence of utility model patent" (Gorodissky and Partners Information Bulletin, #3 (218), 2018)
"International jurisdiction in disputes over the violation of national and unitary rights to trademarks on the internet. The experience of the European Union" ("The IP Court Journal", April 2018)
Comment to the article "How the company has not recognized falsification and lost 1 700 000 rubles" (magazine "Commercial Manager", № 3 (51), March 2015)
Presentations
"Key features of IP protection. IP objects classification and strategy of innovative projects protection" (IV Russian meeting of young inventors "Intellectual waking up", Kazan, March 2019)
"IP rights disposal - licenses, franchising, alienation, pledge", "IAdvertising: is everything allowed? Review of legislation and cases" (Seminar "IP importance in doing business", Ufa, February 2019)
"Strategies for the protection of trademarks in Russia and abroad. The choice of trademark for its promotion on foreign markets" (Seminar "Modern company IP and its protection in the global market", Kazan, November 2018)
"Regional brands - protection perspectives: use of geographical indications in means of individualization" (Public meeting at the Ministry of Economy of the Republic of Tatarstan on the activation of the registration of regional brands in the republic, Kazan, October 2018)
"Choice and registration of a trade mark for successful promotion at international market" (Seminar "IP protection in Russia and abroad. New perspectives", Kazan, October 2017)
"Some aspects of trademark rights protection" (seminar "Classification of goods in accordance with the Foreign Economic Activity Commodity Nomenclature of the Eurasian Economic Union (FEACN of the EAEU) and compliance with the prohibitions and restrictions", Kazan, June 2016)
"Direction of exclusive trademark rights" (seminar "Obtaining and enforcing of trademark rights under contemporary reality", Kazan, August 2014)
"Dangerous corners of a patent technical expertise" (the 12th seminar "IP Protection Strategies for Company Successful Development, Moscow, April 2014 (co-speakers Albert Ibragimov and Andrey Milyashov)
Legal support in a licensing transaction related to the acquisition by PJSC TATNEFT of the fuel and retail business of Neste in Russia.
Successful representation of a large American sports organization in administrative offence case against counterfeit import; as a result counterfeit products were destroyed and the infringer was fined.
Consulting a large Russian oil company on Research, Development and Engineering agreement with a foreign partner.
Consulting a large British toy company on trademarks protection from counterfeiting and parallel import on the territory of the Russian Federation; trademarks filing to the customs register.