GORODISSKY & PARTNERS
IP & TMT LAW
About us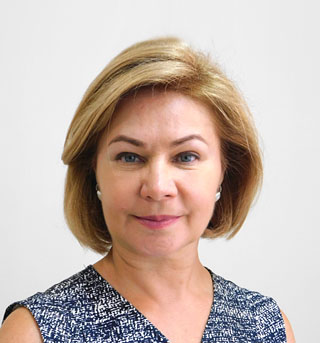 Olga Kotsyubalska
Senior Counsel

Kyiv
send message
Education

Kyiv National University after Taras Shevchenko (magna cum laude, 1981-1986)
International Management Institute (1996)

Trainings

The Open University (Great Britain) (2020)
University of Padova (Italy) (2019)
CIOPORA Academ, International Community of Breeders of Asexually Reproduced Horticultural Plants (Ghent, Toronto, Lisbon) (2018, 2017, 2016)
Bournemouth Business School International, International Law and Business, magna cum laude (Great Britain) (2005)
School of Business and Public Management, George Washington University (Washington DC, USA) (2000)
Summer Institute at Graduate School of Industrial Administration, Carnegie Mellon University (USA) (1996)

Membership

Ukrainian National Bar Association
Ukrainian Bar Association
Forensic expert in legal and economic spheres (2000-2003)

Experience

Bayer LTD (2000 – 2012)
SANOFI - AVENTIS LLC (2012 –2014)
UN National expert on Rule of Law, Human Rights and Gender Issues at the Project of the Council of Europe, World Bank and United Nations for the World Donors Conference (2014-2015)
Pakharenko & Partners (2016-2020)
Gorodissky and Partners since 2020

Languages

Ukrainian
Russian
English
Corporate Law
Commercial Law
Intellectual property for plan varieties
Anti-corruption compliance and business ethics
Competition and anti-trust Law
Advertising and unfair competition
Labour Law
Personal data protection

Membership

Ukrainian National Bar Association
Ukrainian Bar Association
Forensic expert in legal and economic spheres (2000-2003)
"Pharmaceutical Advertising 2019" (Chambers Global Practice Guides, Chambers & Partners, 2019)
"Legal protection of plant varieties is a reliable guarantor of the development of Ukrainian agribusiness" («Садівництво і Виноградарство. Технології та Інновації" magazine №5 (7), 2017)
"Registration of plant varieties in Ukraine" (BerryField magazin (Jagodnik Polska & Technology and Innovation), № 1 (3), 2017)
"PVR application" (BerryField magazine Jagodnik Polska & Technology and Innovation, № 1 (2) 2016)
Presentations
"PBR regime and enforcement tools in Ukraine" (CIOPORA Academy, Madrid, 2018)
"Tools of PVR defense" (VIІ Kyiv AgriChemicals Forum, 2018)
"IP rights protection to selection achievements" (ІІІ International conference on horticulture and fruit processing, Kyiv, 2018)
"PVR protection" (All-Ukrainian scientific-practical conference Technologies and innovations: berry growing and processing, Lviv, 2017)
"Court defense of the corporate rights" (Author's course at the Kyiv institute of intellectual property and law of the National University "Odessa academy of law", 2017)
"Corporate Compliance" (Ist National Forum of in-house lawyers, Kyiv, 2013)
"Promotion & advertising of pharmaceuticals" (IIId National Forum on Pharmaceutical law, Kyiv, 2013)
"The Council of Europe Convention on the Counterfeiting of Medical Products and Similar Crimes Involving Threats to Public Health (MEDICRIME) and fighting Counterfeits in Ukraine and the CIS" (7th Global Forum on Pharmaceutical Anti-Counterfeiting & Diversion, Washington, DC, USA, 2012)
Advising on the acquisition and protection of IP rights for breeding achievements, preparation and support of the procedure for obtaining IP rights for plant varieties for a foreign company.
Drafting of a license agreement for the transfer of exclusive rights to plant varieties; advising on the procedure for payment of license fees, royalties, legislation on avoidance of double taxation for a large foreign pharmaceutical company.
Advertising of medicines and medical products legal assessment for compliance with the Law "On Medicines", assessment of the risks of unfair competition for a number of Ukrainian and foreign clients.
International marketing research project legal assessment for compliance with the requirements of legislation on the personal data protection.
Development of rules and procedures for establishing corporate compliance and ethical requirements, development of training programs and assessment tests for a large Ukrainian company.
Advising an international corporation on determining the legal form of establishing a commercial representative office in Ukraine, corporate rights protection.