GORODISSKY & PARTNERS
IP & TMT LAW
About us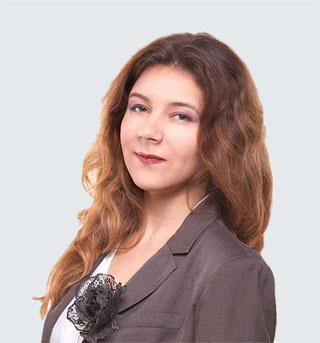 Olga Kovalenko
Senior Lawyer

Kyiv
send message
Education

Cherkassy State Technological University (2001–2006)
Kyiv University of Law of National Academy of Science of Ukraine (2008–2012)
WIPO Academy (2018)

Experience

DLA Piper, Kyev (2007)
"Asters" Law firm (2008–2013)
Television Industry Committee (2013–2015)
Gorodissky & Partners since 2016

Languages

Russian
Ukrainian
English
French
German
Protection of IP rights
Unfair competition
Advertising and media law
IP due diligence
Licensing and IP transactions
Anti-counterfeiting
Copyright and related rights
Competition
Corporate
Representation of a large American pharmaceutical company on invalidation of patents for inventions.
Representation of large European companies on invalidation and early termanation of trademarks.
Advising a well-known English clothing manufacturer regarding opening an outlet in Ukraine, on the issues of license, distribution, and franchise agreements.
Advising a Swedish international company in the sphere of hygienic and forestry products, on the issues of protection against unfair competition relating to the products package design.
Advising a Danish company, a major manufacturer of cosmetic and hygienic products, on the issues of protection of a package design as an industrial design.
Advising a Chinese government agency on the issues of state registration of patent licenses for inventions.
Advising a large US IT company on the issues of establishing a representative office in Ukraine.
Advising a US IT company on the issues of copyright protection, assignment of rights to a work made for hire.
Due diligence audit of a large industrial company for anti-competitive concerted actions and intellectual property rights infringement.