GORODISSKY & PARTNERS
INTELLECTUAL PROPERTY
& TMT PRACTICE
About us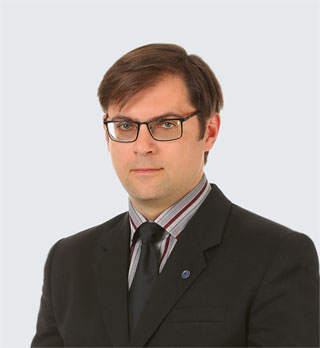 Taras Manolov
Ukrainian Patent Attorney
Ph.D.
Kyiv
send message
Education

Taras Shevchenko National University of Kiev (1993-1998)
Lund University, Sweden (Ph.D., 2009)
National University "Odessa Law Academy" (2014-2016)

Experience

Institute of Colloid and Water Chemistry/Institute of Biocolloid Chemistry (1998-2001)
Lund University, Sweden (2001-2005)
Protista AB, Sweden (2009)
Gorodissky & Partners (Kyiv) (2011-2017)
Advance Partners (2018)
Corporation "Yuria-Pharm" (2019)
Gorodissky & Partners since 2019

Languages

English
Russian
Ukrainian
Sweden
Patents in the field of:

Manufacture of medicines, pharmaceutical preparations, compositions and materials
Manufacture of cosmetics, perfumes and related toiletries
Targeted medical products
Medical instruments and devices
Production of bio-fuels
Production of food and beverages
Chemical manufacturing
Production of basic chemical products
Manufacture of fertilizers and nitrogen compounds
Chemical pesticides and related agro-chemical products

Technical fields:

Biotechnology
Genetic engineering
Microbiology
Immunology
Virology
Biochemistry
Pharmaceutics
Medicine
Organic chemistry
Agricultural chemistry
Perfumery
Cosmetics

Objects:

Treatment, prevention and diagnosis methods of human and animal diseases
Products for treatment, prophylaxis and diagnosis methods
Pharmaceutical compositions
Medical equipment and implants
Bioactive substances
Drugs, including veterinary drugs
Pesticides
Agrochemicals
Cells, stem cells, microorganism strains
Detergents and disinfectants
Cosmetics and perfumes; methods, techniques for their preparation, separation, analysis and application
Food and beverages
"Biosensor Monitoring of Microbial Treatment of Wastewater from Nonylphenol Polyethoxylates under Flow-through Conditions" (Applied Biochemistry and Microbiology, 2011, Vol. 47, No. 9, pp. 844–849 (co-authors Yu. V. Plekhanova, A. N. Reshetilov, L. A. Taranova))
"Immune evasion of Moraxella catarrhalis involves ubiquitous surface protein A-dependent C3d binding" (J Immunol. 2011 Mar 1;186(5):3120-9 (co-authors Hallström T, Nordström T, Tan TT, Lambris JD, Isenman DE, Zipfel PF, Blom AM, Riesbeck K))
"Moraxella–dependent a1-antichymotrypsin neutralization – a unique virulence mechanism" (American Journal of Respiratory Cell and Molecular Biology, 2008, 38: 609-617 (co-authors Thuan Tong Tan, Arne Forsgren, and Kristian Riesbeck))
"Purification of a1-antichymotrypsin from human plasma with recombinant M. catarrhalis ubiquitous surface protein A1" (Journal of Immunological Methods, 2008, 333: 180-185 (co-authors Arne Forsgren, Kristian Riesbeck))
"A Novel Tool to Identify Apoptotic Pathways in Tumor Cells" (chapter in Application of Apoptosis to Cancer Treatment, M. Sluyser (ed.), Springer, 2005, Pages 223-246 (co-authors Caroline Düringer, Oskar Hallgren, Lotta Gustafsson, Jenny Petterson, Ann-Kristin Mossberg, Catharina Svanborg Hamlet))
"Continuous acetonitrile degradation in a packed-bed bioreactor" (Applied Microbiology And Biotechnology, Volume 66, Issue 5, February 2005, Pages 567-574 (co-authors Kristina, Håkansson; Benoit, Guieysse))
"Bacteria-degraders as the base of an amperometric biosensor for detection of anionic surfactants" (Biosensors and Bioelectronics, Volume 17, Issue 8, August 2002, Pages 635-640 (co-authors L. Taranova, I. Semenchuk, P. Iliasov and A. Reshetilov))
Advising a large international pharmaceutical company on the refusal to grant a patent for an antiviral drug and representing the client at the Appeals Chamber.
Advising a large Ukrainian pharmaceutical company on patent clearance in the Ukrainian and international markets, on the patentability of pharmaceutical compositions and medical devices and some aspects of patent protection strategies.
Advising a Canadian manufacturer on international patenting of physiotherapy and sports products in Europe and the USA.