GORODISSKY & PARTNERS
IP & TMT LAW
About us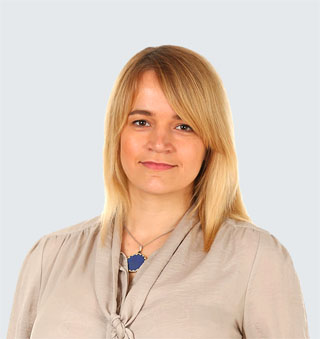 Olga Opanasenko
Ukrainian Patent Attorney
Head of Patent Department

Kyiv
send message
Education

National University of Food Technologies (2003-2009)
National University "Odessa Law Academy" (2013-2015)
World Intellectual Property Organization (WIPO) (2017, 2018)

Experience

Gorodissky & Partners since 2009

Languages

English
Russian
Ukrainian
Patents in the field of:

Manufacture of medicines
Manufacture of pharmaceutical preparations and related materials
Manufacture of cosmetics, perfumes and related toiletries
Production of bio-fuels
Production of food and beverages
Chemical manufacturing
Production of basic chemical products
Manufacture of fertilizers and nitrogen compounds
Chemical pesticides and related agro-chemical products

Technical fields:

Chemistry of biologically active substances
Biotechnology
Genetic engineering
Microbiology
Pharmaceutics
Agricultural chemistry
Perfumery
Cosmetics

Objects:

Bioactive substances, in particular intermediate products and dyes
Drugs, including veterinary drugs
Pesticides
Agrochemicals
Cells, stem cells, microorganism strains
Detergents and disinfectants
Cosmetics and perfumes
Methods, techniques for their preparation, separation, analysis and application
Methods of treatment, prevention and diagnosis
Food
Advising a Ukrainian IT company on the patent protection obtaining in Ukraine, China, India, Australia, New Zealand, South Africa, Brazil, Kazakhstan, Africa, Chile, Canada and the EU.
Representation of a large international pharmaceutical company interests in the Board of Appeal.
Conducting patent clearance searches for a large pharmaceutical company.
Preparation of opinions for pharmaceutical companies on patent infringement.