GORODISSKY & PARTNERS
INTELLECTUAL PROPERTY
& TMT PRACTICE
About us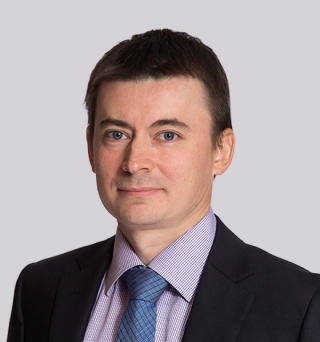 Vladimir Trey
Partner
Trademark & Design Attorney
Head of Trademark Department

Moscow
send message
Education

Russian State Linguistic University (1995–2000)
Russian State Academy of Intellectual Property (2001–2004)

Membership

Experience

Gorodissky and Partners since 1999

Languages

Reference

The Best Lawyers©
MIP IP Stars
WTR-1000
Leaders League
WIPR Leaders
Trademarks and service marks
Appellations of origin
Non-traditional trademarks (color, sound, 3D, etc.)
Collective trademarks
Well-known trademarks
National, international and regional trademarks

In particular, business areas:

Sporting goods, equipment, activities and management
Perfumery and cosmetics
Medicine, pharmacology and orthopedics
Mass media and television
Chemical industry and agriculture
Oil industry, fuels and lubricants, coatings
Electronics, photo equipment, computer hardware and software
Transport and transportation services, tourism
Firefighting and safety systems
Pulp and paper industry
Financial and insurance services
Toys and games

Membership

Reference

The Best Lawyers©
MIP IP Stars
WTR-1000
Leaders League
WIPR Leaders
Trademarks 2020 (Chapter Russia) (Lexology Getting The Deal Throug by Law Business Research (LBR), October 2020)
"Another step towards creating a regional trademark protection system across Eurasia" (The Trademark Lawyer by CTC Legal Media, issue 3, 2020)
"Geographic Trademarks: Registration Issues" ("Patent Attorney" Magazine, № 1, 2020)
"Colour marks gain popularity in Russia" ("World Trademark Review", № 79, June/July 2019)
"Protect and enforce IP rights or risk wasting brand investment" ("World Trademark Review", № 78, April/May 2019)
"Can the name of a country and a year be a trade mark?" (The In-House Lawyer Winter 2019, January 2019)
Trademarks 2019 (Chapter Russia) (Getting The Deal Through (GTDT) by Law Business Research (LBR), 2018)
"Russia's fight against fakes, imitations and replicas" ("World Trademark Review", № 74, 2018)
Trademarks 2018 (Chapter Russia) (Getting The Deal Through (GTDT) by Law Business Research (LBR), October 2017)
"The status of a well-known company and having a well-known brand is not enough to accepted by courts" ("Commersantъ" - Money №39, September 2017)
"Protection of geographical indications in Russia" (The Trademark Lawyer by CTC Legal Media, Issue 4 2017)
"Russian trademark law updates in 2016: A summary" (The Trademark Lawyer by CTC Legal Media, Issue 3 2017)
Trademarks 2017 (Chapter Russia) (Getting The Deal Through (GTDT) by Law Business Research (LBR)
"Do we need an opposition&" ("Economics & Live - Lawyer", № 35, September 2016)
"Non-traditional trademarks in Russia" (The Trademark Lawyer - INTA Issue // CTC Legal Media, May 2016)
"Key Russian PTO administrative cases of 2015" (Intellectual Asset Management (IAM) - International report, April 2016)
"Representing non-traditional trademarks in applications" (Intellectual Asset Management (IAM) - International report, March 2016)
Trademarks 2016 (Chapter on Russia) (Getting The Deal Through (GTDT) by Law Business Research (LBR), January 2016)
"Relations Between Trademarks And Other Means Of Individualization" (Gorodissky and Partners Information Bulletin, № 1–2 (102, 104) 2015)
"Well-known trademarks: The fame game" (World IP Review, April/May 2015)
"Marks for a new generation" ("World Trademark Review", № 46, December-January 2014)
"Knowing the procedure" ("World Trademark Review", № 35, February-March 2012)
"Non-traditional trademarks – a changing picture" ("World Trademark Review", № 30, August/September 2011)
"A controversial approach" ("World Trademark Review", № 28, February/March 2011)
Presentations
"Brand promotion Strategy from the Legal Perspective" (Seminar "Obtaining and Enforcement of Intellectual Property Rights in Russia", Moscow, September 2019)
"Choosing a trademark registration strategy. Design protection design in China" (Seminar "IP Protection in China", Vladivostok, October 2018)
"Trademarks Administrative Disputes Review" (16th annual seminar "IP protection strategies for successful company development", Moscow, April 2018)
"Trademarks in Characters other than Latin", "Geographical Indications in BRICS countries: Obtaining Protection and Enforcement of Rights", "Protection of Well-known Marks in India and Other BRICS Countries - Myth or Reality" (10th BRICS IP Forum (BIPF), Chengdu (China), March 2018)
"Well known trademarks" (Conference "Managing Trademark Assets", Chicago, October 2017)
"Appealing or cancellation of trademark rights" (Conference "Intellectual property: legislation novelties and court practice", February 2017)
"How to protect IP in fashion - Trademark protection" ("IP in Fashion" Seminar, Milano, November 2016)
"Relations between trademarks and other means of individualization: advantages of a complex protection"; "3D printing and future of IP rights" (14th annual seminar "IP protection strategies for successful company development", Moscow, April 2016)
"Trademarks` similarity — what are the criteria?" (13th annual seminar "IP strategies for successful company's development", Moscow, April 2015)
"Brand as IP: theory and practice" (seminar of the Higher School of Economics, Moscow, March 2013)
"Patents and trademarks: things Japan companies should know about today's Russian legislation and practice" (seminar of The Asian Patent Attorneys Association ("APAA"), Osaka, Japan, 2013)
"Well known trademarks in Russia" (9th annual seminar "Obtaining and Enforcement of Intellectual Property Rights in Russia", Saint Petersburg, August 2013)
"Nontraditional trademarks: new ways of IP protection " (11th annual seminar "IP Strategies for successful company's development", Moscow, April 2013)
"Well known trademarks in Russia and Ukraine" (8th annual seminar "Obtaining and Enforcement of Intellectual Property Rights in Russia", Moscow, September 2012)
"Topical issues on Russian legislation and IP enforcement practice" (6th annual seminar "Acquisition and protection of IP rights in Russia", Beijing, China, 2012)
"Trademarks in BRIC Countries: peculiarities of examination" ("4th International BRICS IP Forum (BIPF-2011)" Moscow, September 2011)
"Nontraditional trademarks: theory and practice" (9th annual seminar "IP strategies for successful company's development", Moscow, April 2011)
"What is a trademark and what is not: non-traditional trademarks"(7th annual seminar "Obtaining and Enforcement of Intellectual Property Rights in Russia", Moscow, August 2010)
"Pharmaceutical trademarks in Russia" (6th annual seminar "Obtaining and Enforcement of Intellectual Property Rights in Russia", Moscow, September 2009)
"Well-known trademarks: prestige or real tool" (5th annual seminar "Obtaining and Enforcement of Intellectual Property Rights in Russia", Saint Petersburg, August 2008)
"Well-known trademarks" (4th annual seminar "Obtaining and Enforcement of Intellectual Property Rights in Russia", Kiev, Ukraine, August 2007 (co-speaker D.Zholner))
"Registration of trademarks abroad" (3rd annual seminar "IP strategies for successful company's development", Moscow, April 2005)
"Well-known trademarks" (1st annual seminar "Obtaining and Enforcement of Intellectual Property Rights in Russia", Moscow, September 2004)
Advising a large electronics manufacturer on trademark protection strategy and contestation of a trademark.
Prosecution and recognition of a trademark as well-known for an optical products corporation.
Consulting the largest manufacturer of sports equipment on trademarks protectability issues.
Contestation of a trademark, imitating a well-known trademark of a large pharmaceutic company.
Assisting in trademarks due diligence for a large pharmaceutic enterprise.