GORODISSKY & PARTNERS
IP & TMT LAW
About us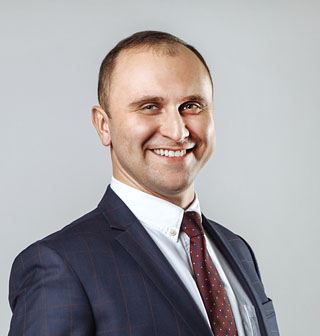 Oleg Zhukhevych
Ukrainian Trademark Attorney
Attorney at Law
Head of Legal Practice, Trademark & Design Practice

Kyiv
send message
Education

National Aviation University (2000–2005)
State institute of intellectual property (2006–2008)

Membership

AIPPI
Ukrainian Association of Patent Attorneys

Experience

Gorodissky and Partners since (2005–2017)
Advance Partners (2018–2019)
Gorodissky and Partners since 2019

Reference

Languages

English
Russian
Ukrainian
Copyright & neighboring rights
Trademarks
Legal representation and dispute resolution
Unfair competition
License and franchise agreements
Internet and e-commerce
Intellectual property and information technologies

Membership

AIPPI
Ukrainian Association of Patent Attorneys

Reference
Publications
ICLG: Patent Laws and Regulations 2022 / Chapter Ukraine ("The International Comparative Legal Guide: Patent Laws and Regulations 2022", Global Legal Group Ltd, September 2021)
"Filing objections to trademark applications in a new way" (EPravda.com.ua, September 2021)
ICLG: Trade Mark Laws and Regulations 2021 / Chapter Ukraine ("The International Comparative Legal Guide: Trade Mark Laws and Regulations 2021", Global Legal Group Ltd, April 2021)
"Industrial Property in Ukraine" (Kluwer Law International, March 2021)
ICLG: Designs 2021 / Chapter Ukraine ("The International Comparative Legal Guide: Design Laws and Regulations 2021", Global Legal Group Ltd, November 2020)
Chapter Ukraine ("The International Comparative Legal Guide: Patent Laws and Regulations 2021", Global Legal Group Ltd, September 2020)
Chapter Ukraine ("The International Comparative Legal Guide to: Trade Marks 2020", Global Legal Group Ltd, April 2020)
"Protection of IP Rights at the Customs Border of Ukraine. New Developments" (Gorodissky and Partners Information Bulletin, #1 (138), April 2020)
Chapter Ukraine ("The International Comparative Legal Guide to: Copyright 2017", Global Legal Group Ltd, 2016)
Chapter "Ukraine" ("International Comparative Legal Guide to: Franchise 2015", #1, 2014)
Chapter "Ukraine" ("International Comparative Legal Guide to: Copyright 2015", #1, 2014)
"False identity: Yamato vs. Yamata" (Gorodissky and Partners Information Bulletin, № 4 (72) 2010)
Presentations
"Does business documentation constitute evidence of trademark use?" (XX International IP Conference "Topic issues of intellectual property", Kyiv, February 2013)
"Division of judicial jurisdiction in matters of IPRs protection" (XIX International Conference "Topic issues of intellectual property", Yalta, September 2012)
"Practical aspects of franchise agreements (franchise) in business" (XXI International IP Conference "Topic issues of intellectual property", Yalta, September 2012)
"Well-known trademarks recognition: from theory to practice" (XVIII International Conference "Topic issues of intellectual property", Yalta, September 2011)
"Actual problems of engaging a defendant in the event of liquidation of the legal entity — the defendant" (XVI International Conference "Topic issues of intellectual property", Yalta, September 2010)
"Dispute resolution practice relating to trademark rights protection in Ukraine" (seminar "IP protection in Ukraine", Kyiv, June 2010)
"Dispute resolution practice relating to trademark rights protection in Ukraine" (8th annual seminar "IP strategies for successful company's development", Moscow, April 2010)
Legal consultations/regulatory questions
Advising a French company on copyright legal protection; employee`s works rights transfer; applied art copyright registration.
Consulting a large US company on IPR legal protection on a software application and verification of compliance copyright agreement transfer with national law.
Consulting a large Japanese company on trademark rights protection from counterfeiting and parallel import on the territory of Ukraine; trademarks filing to the Ukraine customs register.
Consulting a large Japanese manufacturer on well-known trademarks legal protection and successful representation of the company`s interests in the appeals chamber of the Ukrainian PTO.
Deals/agreements
Consulting a large American IT company on purchasing of IP subject matters of a well-known Ukrainian software company; due diligence of IP and related subject matters (trademarks, computer programs, databases, domain names); drafting required documents for registration of corresponding assignment agreements.
Advising a large American pharmaceutical company on issues of licensing/sublicensing and technology transfer for building up a joint venture with a well-known Russian company; due diligence of technologies and patent rights; filing required paperwork; license and sublicense registration in Ukrainian PTO.
Consulting a large American fast-food restaurant chain, on issues related to the Ukrainian market entrance by franchising; brand (trademarks) due diligence; preparation of the required documents and agreements.
Consulting a large American engineering company concerning the pledge of brands (trademarks) rights; due diligence of pledged IP objects; preparation of required documents and agreements.
Representation in court / Settlement of disputes
Represented a large Italian company in a case of early termination of trademark protection due to non-use; amicable agreement and registration of the client's trademark.
Representation of a large Japanese company in court against trademark infringement in the Internet (domain name); as a result the domain name was passed to the client.
Representation of a large Russian company in courts in case on trademark rights protection.
Representation of an Australian company in a criminal offense case against counterfeit distribution in internal affairs bodies.