GORODISSKY & PARTNERS 
PATENT AND TRADEMARK
ATTORNEYS IP LAWYERS 
since 1959
9th IP Annual Seminar «Obtaining and Enforcement of Intellectual Property Rights in Russia»
1 September 2013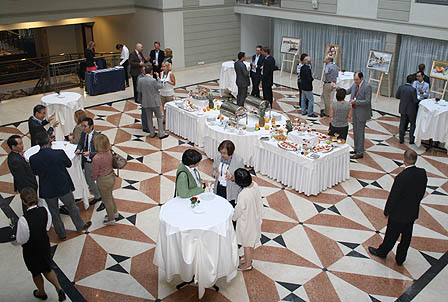 9th IP Annual Seminar «Obtaining and Enforcement of Intellectual Property Rights in Russia» was hosted by Gorodissky & Partners in the luxury Kempinski Hotel Moika 22 in St. Petersburg.
This time the seminar was focused on the current trends in the Russian IP legislation and practice. The Program consisted of 3 Sessions — Patents, Trademarks and Legal aspects. Besides, special attention was paid to car industry at the Workshop «Comprehensive IP protection in car industry». The changes in IP legislations of Russia and CIS countries, practice of famous brands protection in Russia, strategies of fight against IP rights infringers in Russia and first hearings at the Russian IP court were in the focus of the Seminar. The leading patent\trademark attorneys and lawyers of Gorodissky & Partners were the speakers at the Seminar.
The seminar gathered more than 30 attorneys and lawyers from Europe, USA, Japan and other countries.
Comments:
«It was a great pleasure to meet you in St Petersburg. Congratulations for this high quality seminar with very illuminating examples. I hope to see you again at the next seminar «
Philippe PRUGNEAU | European Patent & Trademark Attorney | Conseil en Propriété Industrielle
PRUGNEAU-SCHAUB Intellectual Property (France)
«I wish once again to express my sincere gratitude for very well organized seminar. Everything was superb!»
Irina Karvelistova, 3M RUSSIA (Moscow)
«Your seminar indeed and truly was a great success. You did a great job. It was most instructive and enjoyable. And I surely hope that I will be able to join again next year in Moscow»
Wilfried Gunst, General Counsel — Intellectual Property, CNH Belgium NV
«It was a great pleasure for me to attend your seminar. I appreciate the professional knowledge that I could gain during the lectures. The friendly atmosphere during the seminar and accompanying events has left unforgettable memories»
Anna Slominska-Dziubek, Patent and Trademark Attorney, Polservice
Back