GORODISSKY & PARTNERS
PATENT AND TRADEMARK
ATTORNEYS IP LAWYERS
since 1959
New Partners of Gorodissky & Partners
29 January 2019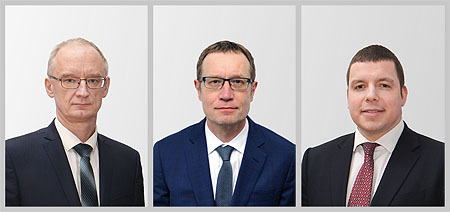 Andrey Bazhenov, Albert Ibragimov and Sergey Medvedev became new Partners with the firm.
- Andrey Bazhenov, Russian Patent Attorney, Eurasian Patent Attorney, Chief of Electronics & Physics Department
Andrey joined Gorodissky and Partners in 2001. Since 2015 he has headed Electronics and Physics Department. He counsels clients on patent strategies for the purposes of protection of unique technical solutions of companies in Russia, CIS, Europe, Asia, USA and Canada in the spheres of computers and aerospace, data processing systems, control systems, plasma coating, electric-powered machines and equipment, etc. He has a great experience in oppositions and appeals before the Russian and Eurasian Patent Offices. Andrey is a regular speaker at IP conferences and seminars, and also the author of a number of publications devoted to various patent law issues.
- Albert Ibragimov, Russian Patent Attorney, Eurasian Patent Attorney, Regional Director, Gorodissky & Partners, (Kazan)
Albert joined Gorodissky & Partners in 2008 as a Regional Director of the Branch office in Kazan. Counsels clients on legal protection of inventions and utility models, patent invalidation, as well as technology transfers, licensing and IP management. Specializes in patenting geophysical inventions. Albert is awarded with the State Award of the Republic of Tatarstan in the field of science and technology. He is a Certified IP valuator, a Forensic examiner accredited at the Center of forensic examination under the Russian Ministry of Justice and an Official arbitrator with the Arbitration Energy Court. Albert was among who started the firm's project in the field of IP education and studies – Gorodissky IP School. He is the author of number of publications and regular speaker at IP conferences and seminars. Member of Licensing Executives Society International (LESI).
- Sergey Medvedev, Ph.D., LL.M., Trademark & Design Attorney
Sergey joined Gorodissky & Partners in 2007 and specializes in different law-areas related to intellectual property (IP), technology, media and telecommunications (TMT), as well as commercial law. Sergey advises clients on legal aspects associated with IP and IT, software development and distribution, Internet and e-commerce, licensing and outsourcing, digital law. He is very experienced in handling various transactions involving intangible assets, including M&A, joint ventures and venture capitals. Specializing in franchising and distribution. Represents the interests of clients in IP, IT, commercial and unfair competition disputes and other conflicts. He is a guest lecturer at the Law Institute M-Logos (since 2011), the Higher School of Economics, National Research University (since 2012), the Institute of Development of Modern Educational Technology (since 2014), Russian School of Management (since 2017), as well as online-education platform LF-Academy (since 2018). Sergey is appointed as the Russian representative and the expert (contributor) on data protection with professional associations DataGuidance and PrivacyRules; he is an expert (arbitrator) with the Italian IP Dispute Resolution Center 'MFSD'. Sergey is with the Board of Directors at the Russian Franchise Association and a member of many international organizations and associations, including International Franchise Association (IFA), EuroFranchise Lawyers (EFL), Licensing Executives Society (LES), International Distribution Association (IDI), International Trademark Association (INTA) и American Intellectual Property Law Association (AIPLA). He is the author of numerous articles published by Russian and international publishers, regularly makes speeches at seminars and conferences in Russia and abroad. He is recommended by Legal500, IP Stars and Who's Who Legal.
Back