PowerTech 2019
21 December - 22 December 2019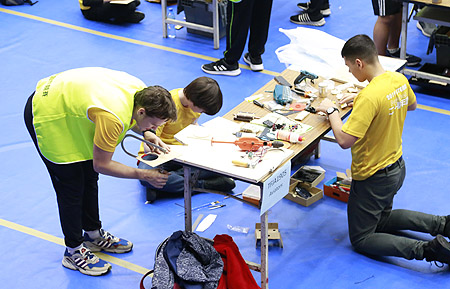 Second year in a row, Gorodissky & Partners supported participation of the Russian team in the annual international creative contest among young design engineers - PowerTech, organized by the National Taiwan Normal University in Taiwan. Teams from Taiwan, China, Indonesia, Japan, South Korea, Hong Kong, India usually take part in the Contest. This year about 220 students attended the contest, among them 7 teams (26 students) from Sarov, Nizhny Novgorod, Novosibirsk and Vladivostok presented the Russian team.
The main goal of the PowerTech contest is to develop children's scientific and technical creativity. According to the rules of the competition, within 3 hours the teams should assemble three electromechanical models from the same sets of parts distributed to the participants before the start of the competition. The electromechanical part of the models must ensure its movement in one of the following ways - through four supports, rotating wheels or crawling. The solution to these problems is designed to help students understand the mechanics of structures and design a workable robotic mechanism.
In the current year, two teams from Russia were included in the top thirty list.
Back