Round table "Invention in Russia: what to do?"
20 July 2022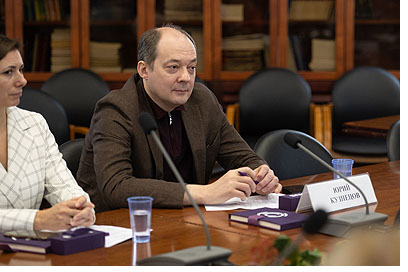 Yuri Kuznetsov, Partner, Russian & Eurasian Patent Attorney, Head of Patent Practice (Gorodissky & Partners, Moscow) spoke at the round table "Inventive activity in Russia: what to do?", organized by the Chamber of Commerce and Industry.
The round table gathered: Igor Kustarin, Director of the Innovation Development Department of Nornickel, Alexandr Borisov, Director of State Autonomous Institution "Technopark in the field of high technologies "IT Park", Vadim Vasiliev, Minister of Science and Innovation Policy of Novosibirsk Region, Alexey Parabuchev, General Director of the Moscow Innovation Cluster Foundation, Alexey Matushansky, Director of the Department for Strategic Development and Corporate Policy of the Ministry of Industry and Trade of the Russian Federation and other representatives of business, government and education.
The participants discussed level of innovation activity in Russia and considered ways to support inventors.
Back