GORODISSKY & PARTNERS
INTELLECTUAL PROPERTY
& TMT PRACTICE
Seminar "Intellectual property and Russian export"
25 November 2019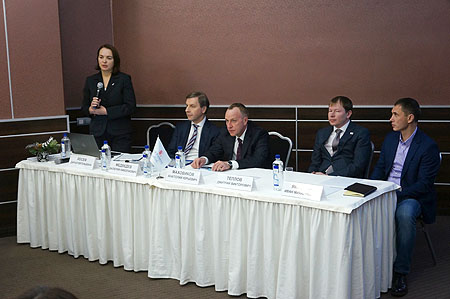 Gorodissky & Partners Law Firm held the final seminar of a series of events dedicated to the 60th anniversary of the practice. In the framework of the seminar "Intellectual Property and Russian Export" held in Perm, lawyers and patent attorneys from the Moscow and Perm offices of the company spoke about the intricacies of registration and protection of trademarks and industrial designs, modern strategies for protecting inventions in Russia and abroad, legal aspects of advertising export services, on the mechanisms for exporting intellectual property rights, and on the role that is given to intellectual property rights in modern realities.
The seminar was held with the support of the Center for Export Support of the Perm Territory of the Fund "Regional Center of Engineering" and brought together more than 100 participants: mainly representatives of export-oriented enterprises of the Perm Territory.
Welcoming remarks at the seminar were made by Anatoly Makhovikov, Commissioner for the Protection of the Rights of Entrepreneurs of the Perm Territory, Dmitry Teplov, Chairman of the Perm regional branch of "Business Russia", Ivan Yakovlev, Head of the Perm Krai Export Support Center.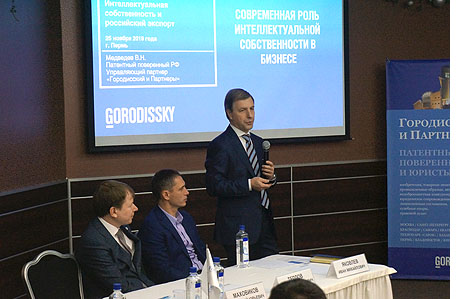 The speakers at the seminar were the leading specialists of the firm: Valery Medvedev, Managing Partner, Russian and Eurasian Patent Attorney, Valery Lyzhin, Russian Trademark Attorney, Daria Markovtseva, Russian Design Attorney, Denis Ashikhin, Russian and Eurasian Patent Attorney, Ilya Goryachev, Senior Lawyer (all from Gorodissky&Partners, Moscow), Nikita Maltsev, Ph.D., Senior Lawyer (Gorodissky&Partners, Perm).
Back