Afterworld knocks on the door of the Supreme Court
15 July 2015
Trade marks are attributes of goods and services. Unfortunately, there is a specific service which none can avoid: funeral service.
The owner of trade mark number 487945, which included the words Ritual Service (funeral service), initiated a court action against the owner of a funeral home which used the words "funeral service" to designate the funeral home itself as well as using the words in various documents accompanying the funeral services.
The court of first instance upheld the claims of the plaintiffs. The judgment was appealed in the court of appeal, which dismissed the plaintiff's claims. The case was appealed in the IP court, which cancelled all previous judgments and sent down the case for a new examination. In so doing IP court pointed out that factual circumstances had not been properly investigated and evaluated. This time the owner of the funeral home appealed the judgment in the Supreme Court and asked it to cancel the ruling of the IP court and leave in force the judgment of the court of appeal.
The Supreme Court noted that the words "funeral service" in the trade mark are disclaimed from protection. The court of first instance issued a judgment in favour of the trade mark owner arguing that the entrepreneurs render similar services. The court of appeal cancelled that judgment arguing that the words "funeral service" are disclaimed from protection. The IP court ruled that the case should be re-examined because in its opinion it was necessary to investigate the confusing similarity of the words with consideration for the activities of the conflicting parties on the same territory from the point of view of their graphic and visual similarity and existence of the dominating element.
The Supreme Court cut the Gordian knot in a few simple statements: the Civil Code provides in Article 1483 that a non-protectable element may exist in a trade mark but it should not dominate the trade mark, which means that it does not affect the general perception of the designation and should not be protected because it is a commonly used word. It also noted that the previous court instances confirmed that the words "funeral service" had been used by the respondent separately from the figurative part of the trade mark and were commonly used words. Hence, no more arguments were needed to make the final judgment. The Supreme Court ruled that the judgment of the court of appeal should be left in force meaning that that there was no infringement of the trade mark rights.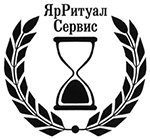 The case may seem trivial; funeral services were and will be rendered regardless of the hassle between the undertakers. What is worth noting is that this is the first case accepted for examination by the Supreme Court after the merger of the Supreme Commercial Court into the Supreme Court six months ago. The judgment is flawless. However it would have been better if its first IP case concerned a different trade mark because of the aftertaste that remains.
Back