GORODISSKY & PARTNERS
INTELLECTUAL PROPERTY
& TMT PRACTICE
About us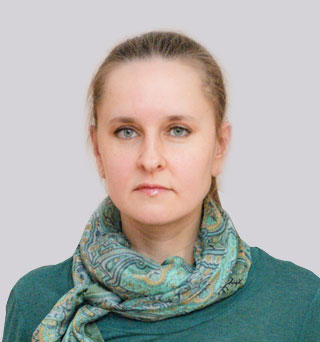 Ksenia Dyomina
Russian Patent Attorney
Ph.D.
Ekaterinburg
send message
Education
Ural Federal University (1990-1995)
Ural Federal University (1999)
Experience
Ural Federal University (1999-2003)
Gorodissky and Partners since 2003
Languages
Trademarks and service marks
Appellations of origin
"Trademarks - what do we get when we register them?" (Gorodissky and Partners Information Bulletin, #3 (135), 2019)
Presentations
"Means of individualization types. Trademarks" (II Urals innovation forum, Ekaterinburg, November 2012)
"Trademark as an effective tool for competition" (seminar "Actual questions of trade management", Ekaterinburg, September 2010)
"Means of individualization" (Municipal program of small and medium business support, May-June 2010)
"Practical aspects of effective trademark (brand) protection as the primary goods and services promotion tool. Trademark use and consequences of its nonuse" (seminar "Trademark - effective tool of competition", Ekaterinburg, April 2004)
Out-of-court expert opinion on uniformity of goods in context of indeterminacy of their origin and type for one of the largest Ural companies, accused of trademark infringement; as the result the declarant dropped his claims at the first court session.
Preparation of a substantiated response to the Rospatent's examination of trademark application for one of Ural largest construction holding; as the result the trademark was registered.
Trademark prosecution, filing and registration for a clerical tailoring studio.
Out-of-court expert opinion and consulting on a defense strategy against charge of trademark infringement. Later the complainant's conflict trademarks were nullified due to unfair competition.