GORODISSKY & PARTNERS
PATENT AND TRADEMARK
ATTORNEYS IP LAWYERS
since 1959
About us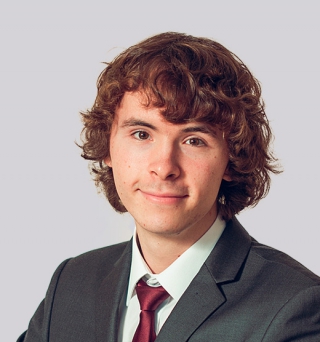 Nikita Maltsev
Senior Lawyer

Perm
send message
Education

The National Open Institute of Russia (2008-2011)
Perm State National Research University (2008 – 2013)
Perm State National Research University (2013 – 2017)

Experience

NOU "Prikamsky Institute of Business" (2011 – 2013)
"Gorodissky and Partners" since 2013

Languages
Trademarks
Copyrights and related rights
Patent Law
Dispute resolution
IP transitions
Anti-counterfeiting
"The right to remuneration of the composer: in search of a place in the system of intellectual property rights" ("Patents and Licenses", № 11, 2019)
"The legal regime of internet sites as objects of intellectual property rights" ("Patents and Licenses", № 9, 2019)
"The Right to Remuneration for Employee's Work" ("Patents and Licenses", № 4, 2019)
"On the minimal rates of award between authors and users" ("Copyright and Related Rights", № 8, 2016)
"Fair amount of award: finding the balance of interests of authors and users" ("Copyright and Related Rights", № 7, 2016)
Presentations
"Legal Protection of IP Abroad" (Round table "Developing the Perm Region export potential", Perm, December 2019)
"IP Rights Export - Key Terms and Types of Contracts" (Seminar "Intellectual property and Russian export", Perm, November 2019)
"Intellectual Property for a Smart Business and Successful Start" (Seminar "Intellectual property for a smart business and successful start", Perm, October 2019)
"Protection of Interests of Users when Distributing Digital Content and Provision of Digital Services" (X Congress of scientists-lawyers "Modern Economics in Legal Dimension", Perm, October 2019)
"Principals of Intellectual Property for Business" (Webinar "Principals of Intellectual Property for Business", Perm, August 2019)
"Artificial Intelligence. When tool turns into creator" (VIII International scientific-practical conference "Law at digital age", Perm, November 2018)
"Artificial Intelligence. When tool turns into creator" (IX Congress of scientists-lawyers "Legal regulation of society digitalization of society. Priority tasks", Perm, October 2018)
"Issues of Rroyalties in regard of public performance of musical works and phonograms" (Мaster class "Issues of Rroyalties in regard of public performance of musical works and phonograms", Perm, October 2018)
"Basics of IP protection in Russia and abroad. Outlines of patent, trademark and copyright laws" (Master сlass for participants of the West Ural competition-accelerator of innovation projects "Big Intelligence", Perm, September 2018)
"IP transactions: theory and practice", &ldquoFeatures of official IP objects" (Practical seminar "IP management issues. Legal practice overview", Perm, April 2018)
"Intellectual property for a smart and successful start" ("UMNIK" and "START" programs, implemented by the Foundation for support to small innovative companies in the scientific and technical spheres, Perm, April 2018)
"Principles of Intellectual Property in the Russian Federation" (Seminar for enterprises participating in the fiber optics technologies Cluster "Photonika", Perm, April 2018)
"IP service objects in business. Payment of awards to authors. Legislation changes. The court practice review" (Meeting of the Association of Employers, Gorodissky IP School, Krasnokamsk (Perm region), November 2017)
"Basic provisions of rights to the results of intellectual activity and means of individualization", "Features of official IP objects", "Trademark as an effective business development tool. How not to violate third parties rights and protect your own", "Actual issues of copyright and related rights for small and medium-sized business. Legal practice overview" (Practical seminar "IP management strategy for successful business development", Lysva, November 2017)
"Intellectual Property and Successful Business Development" (Master-class for multimedia business project "Business mentor", Gorodissky IP School, Perm, October 2017)
"Intellectual property for an intelligent and successful start" (Seminar "Actual issues of patent and copyright", Gorodissky IP School, Perm, October 2017)
"Topical issues of copyright and trademark rights for small and medium businesses. Responsibility for IPR violation. Legal practice overview" (Conference "Legal regulation of business", Gorodissky IP School, Perm, October 2017)
"Actual issues of intellectual property for small and medium-sized businesses" (Master-class "Actual issues of intellectual rights for small and medium-sized businesses", Gorodissky IP School, Gubakha (Perm Region), September 2017)
"Legal regulation of selection invention in Russia. Legislative novells" (Practical seminar "Legal regulation of selection invention in Russia", Perm, June 2017)
"Issues of copyright royalties payment for public performance of musical works and phonograms", "Official works", "Trademark as an instrument for effective business development" (Practical seminar "Issues of IP use in the sphere of services. Case law: types of responsibility", Perm, December 2016)
"Issues of copyright and trademark rights protection" (Seminar "Issues of IP use in business", Gubakha (Perm Region), November 2016)
"Intellectual Property in Russia. Topical issues of copyright and patent law, trademark registration and IPR protection" (series of lectures and seminars on intellectual property law for bachelors and masters, Higher School of Economics, Perm, March-May 2016)
"Fundamentals of Intellectual Property", "Service Results of Intellectual Activity" (Seminar for organizations participating in innovative clusters of Perm Krai, April 2016)
"Review of the regional court practice on trademark rights. Effective litigation strategies" ("IP days in Perm Territory", April 2016)
"Intellectual property in the modern world" (Seminar for students of the Secondary School No. 135 in the frames of the School Patent Bureau project, February 2016)
"Fundamentals of Intellectual Property" (Seminars for small innovative companies participating in "UMNIK" and "START" programs, April, September, November 2015)
"Intellectual assets in business of the XXI century" (Seminars for representatives of small and medium business of the Perm Krai, March-April 2015)
"Fundamentals of Intellectual Property Protection in Russian Federation" (Seminar "Fundamentals of Protection of Intellectual Property in Russian Federation, Changes in the Protection of Means of Individualization of Goods, Works and Services, Disposal of Law (License, Franchising)", Perm, November 2014)
Protection of major Swiss company patent rights against the illegal use of trademarks in mediation procedure by liquidating sales outlets of the infringer on the territory of the Perm Territory and the Tyumen Region.
Organization and holding of intellectual property auctions.
Representing the interests of pharmaceutical innovation companies on the protection of patent rights for medicines.