Vitaly Shishaev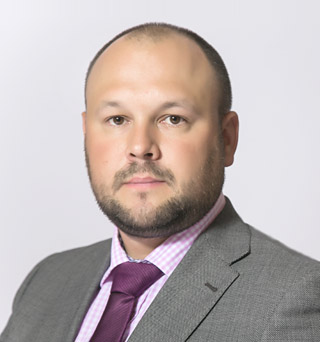 Trademark Department

Moscow
send message
Education

Russian University of Cooperation (1995–2000)

Membership

Experience

Gorodissky and Partners since 2000

Languages
Trademarks and service marks
Appellations of origin and geographical indications
Non-traditional trademarks (color, sound, 3D, etc.)
Collective trademarks
Well-known trademarks
National, international and regional trademarks

In particular, business areas:


Medicine, pharmacology and orthopedics
Perfumery and cosmetics
Oil industry, fuels and lubricant materials
Machinery and machine tool industry
Automobile industry
Electronics, photo equipment, computer hardware and software
Food
Consumer goods
Financial and insurance services
Internet and telecommunications
Sanitary appliances
Construction and renovation

Membership
Presentations
"Trademark protection as a significant element of business development strategy" (Roundtable "IP Protection Strategy for Successful Company Development", Kaluga, June 2023)
"Conflicting trademarks: ways to prevent registration and combat strategies" (19th Gorodissky annual seminar "IP Protection Strategies for Successful Company Development", Moscow, November 2021)
"Peculiarities of medicament trademarks registration" (9th annual seminar "IP protection strategy for successful company development", Moscow, April 2011 (co-speaker I. Rogal)
"How to file new trademark cases. Formal examination" (2nd annual seminar "Obtaining and Enforcement of Intellectual Property Rights in Russia", Moscow, September 2005)
"Formal expertise of a trademark application. The protectability criteria of a trademark" (3rd annual seminar "IP protection strategy for successful company development", Moscow, April 2005)
Consulting large French publishing houses on trademarks registration and prevention of a confusingly similar trademark registration.
Developing trademarks registration strategies for a Turkish clothes manufacturer and a well-known orthopedic German company.
Preventing an unauthorized registration of trademarks, owned by Chinese and Taiwan electronic companies, by third parties.
Developing a colored trademark registration strategy for a large manufacturer of professional hairdressing equipment.