Dmitry Sando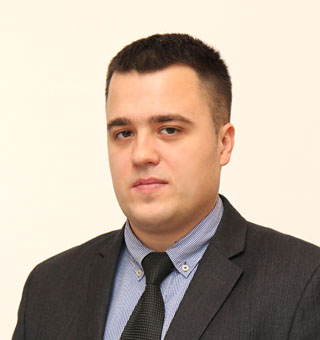 Lawyer
Legal Department

Moscow
send message
Education

Russian State Academy of Intellectual Property (2002–2011)

Trainings

Pericles Center for International Legal Education (2007)
BKC International House (2008)
Meissner, Bolte (Munich, Germany) (2014)
Boehmert & Boehmert (Munich, Germany) (2015)

Membership

Experience

Gowlings International, Moscow office (2006–2008)
Legal representation department of Rospatent (2008–2009)
Organizing Committee for the XXII Olympic Games АНО and XI Paralympic Games of 2014 in Sochi (2009–2010)
«Uniconf» confectionary holding (2011–2013)
Gorodissky and Partners since 2013

Languages
Patent law
Trademarks
Copyright
Deals with IP objects
Representation in court and dispute resolution
Counterfeit combatting

Membership
Presentations
"Legal protection of graphic patterns in Russia and abroad" (20th Gorodissky annual seminar "IP Protection Strategies for Successful Company Development", Moscow, June 2022)
"Legal and illegal use of trademarks. The border of bad faith in doing business" (18th Gorodissky annual seminar "IP Protection Strategies for Successful Company Development", Moscow, October 2020)
"Practical aspects of on-line brand protection in Russia" (IP Service World 2019, Munich, November 2019)
"New instruments of combatting unfair competition. Suppression of unfair Internet advertising" (seminar "Practical aspects of management of company's IP assets", Perm, May 2014)
Consulting a large American sports company on issues of using the Olympic symbols.
Consulting a Japanese company in a case against unfair competition, in particular copying the product's package.
Consulting a German lighting company on effective prejudicial protection of means of individualization.
Obtaining of rights for the domain names for German and Belgium pharmaceutic companies.
Consulting a large Russian airline on aspects of in-house use of IP objects.
Consulting a Russian pharmaceutical company on assignment and licensing of IP.
Represented a large American perfumery company in a case of cancellation of a third party`s trademark due to non-use followed by its registration in the name of a client.
Consulting and representation of an American toy company before the law-enforcement authorities and courts in a case of copyright infringement.
Prejudicial dispute resolution and suppression of IP infringement for innovative Canadian company (producer of backpacks, bags and touristic accessories).
Prejudicial dispute resolution of IP rights infringement case for a French company, producer of conductor cables.
Representation of a large US company in a court case against the Russian PTO which refused to satisfy an appeal against the grant of a patent to a competitor.
Consulting and legal support of franchise registration for Russian partners from the rightholder — Canadian supplier of automotive components.