Nikolay Bogdanov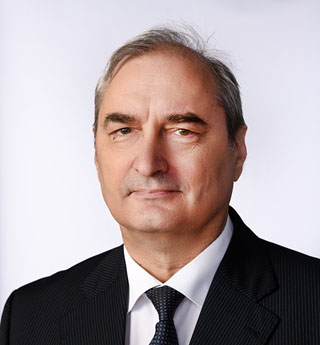 Partner
Russian Patent Attorney
Counsel
Counsels Department

Moscow
send message
Education

Moscow Institute of Electronic Machine Building (1977–1983)
Russian Presidential Academy of National Economy and Public Administration (1992–1995)
Russian State Academy of Intellectual Property (1984–1986)
Centre for International Intellectual Property Studies of the University of Strasbourg (Strasbourg, France) (1995)
International Intellectual Property Training Institute (Tedjon, Korea) (1996)
World Intellectual Property Organization (WIPO) Academy (Geneva, Switzerland) (1997)

Membership

Experience

Russian PTO (1983–2004)
Gorodissky and Partners since 2004

Languages
Legal proceedings
Legal representation in administrative and judicial authorities

Membership
"Russia Does Not Abolish Intellectual Property Rights" (Lexology, March 2022)
"Expert witness in Russian Court" (The Patent Lawyer Issue 56 by CTC Legal Media, September / October 2021)
ユーラシア工業意匠の保護 (知財ぷりずむ 2021年6, June 2021)
Lexology GTDT Patents 2021 / Russia (Lexology Getting The Deal Throug by Law Business Research (LBR), May 2021)
Patents, trade marks, copyright and designs in the Russian Federation: overview (Practical Law Country Q&A by Thomson Reuters, December 2020)
INTA International Opposition Guide / Russian Federation jurisdiction (INTA International Opposition Guide, September 2020)
"Eurasian Patent System" (Kluwer Law International, August 2020)
"INTA Trademark Cancellations / Chapter Russia" (INTA Trademark Cancellations International Practice and Procedures, July 2020)
Lexology GTDT Patents 2020 / Russia (Lexology Getting The Deal Throug by Law Business Research (LBR), May 2020)
"Protecting and enforcing design rights" (World Trademark Review, Designs - A Global Guide 2020: Russia, December 2019)
Patents, trade marks, copyright and designs in the Russian Federation: overview (Practical Law Country Q&A by Thomson Reuters, October 2019)
"The Supreme Court of Russia considers the scope for patent amendments" (The Patent Lawyer by CTC Legal Media, September/October 2019)
"Clarification of the Supreme Court" (Gorodissky and Partners Information Bulletin, #2 (134), 2019)
Patents 2019 (Chapter Russia) (Getting The Deal Through (GTDT) by Law Business Research (LBR), 2019)
Designs - A Global Guide 2019 / Chapter Russia (World Trademark Review, Designs - A Global Guide 2019: Russia, December 2018)
"Metamorphosis of the Russian utility model over their 25-year history" (The Patent Lawyer by CTC Legal Media, Issue 38, September/October 2018)
"Trademark Cancellations in Russia" (INTA Guide: Trademark Cancellations International Practice and Procedures, September 2018)
Patents 2018 (Chapter Russia) (Getting The Deal Through (GTDT) by Law Business Research (LBR), 2018)
"Protecting and enforcing design rights" (World Trademark Review, Designs - A Global Guide 2018: Russia, January 2018)
"Russia accedes to the Hague System for the International Registration of Industrial Designs" (World Trademark Review, May 2017)
Designs 2017 (Chapter Russia) (World Trademark Review (WTR) Designs 2017: A Global Guide)
Patent 2017 (Chapter Russia) (Getting The Deal Through (GTDT) by Law Business Research (LBR)
"Don't get crushed in a patent dispute" (The Patent Lawyer Magazine by CTC Legal Media, September/October 2016)
"Patent Protection in Russia", "Protection of trademarks in Russia" (WIPR Leaders 2016 - Patent Volume / Trademark Volume, April 2016)
"Patents", "Trademark", "Appellation of Origin" ("IP Management in Russia" of Gorodissky & Partners for JETRO, 3rd edition, March 2016)
"Key features of utility model protection" (Intellectual Asset Management (IAM) - International report, February 2016)
Patents, trade marks, copyright and designs in Russian Federation: overview (Practical Law Global Guide 2015/16 - IP In Business Transactions)
Chapter Russia (World Trademark Review Yearbook 2016/2017)
"Law Deals a Blow to the List of Features" (Gorodissky and Partners Information Bulletin, № 3 (106) 2015)
"Chapter Russia" ("International Comparative Legal Guides — Patents 2015", 2015)
"Chapter Russia" ("Anti-counterfeiting 2014 — A Global Guide", 2014)
"Chapter Russia" ("World Trademark Review Yearbook 2014/2015. A Global Guide for Practitioners ", 2014)
"Chapter Russia" ("The Intellectual Property Review", 1st issue, 2012)
"New customs union" (Gorodissky and Partners Information Bulletin, № 3 (70) 2010)
"Comments to the Patent Law of the Russian Federation" (publishing house "Company demitreid schedule group", 2004)
"Outlook of Russia's participation in the Patent Law Treaty (PLT)" ("Intellectual Property: Industrial property", #9/10, 2004)
"Agreement on Trade-Related Aspects of Intellectual Property Rights and Russian law" ("Patents and Licenses" #2, 2003)
"International harmonization of law and its impact on the Russian patent system ("Patents and Licenses" #11, 1999)
Presentations
"Review of changes in intellectual property law and practice" (21th Gorodissky annual seminar "IP Protection Strategies for Successful Company Development", Moscow, September 2023)
"Major developments in IP law" (20th Gorodissky annual seminar "IP Protection Strategies for Successful Company Development", Moscow, June 2022)
"New rules for RU PTO consideration of administrative disputes" (18th Gorodissky annual seminar "IP Protection Strategies for Successful Company Development", Moscow, October 2020)
"Preliminary information search and assessment of patentability - additional guarantees to increase the reliability of a patent" (XXIV Rospatent International Conference "Transformation of intellectual property in the contemporary environment", Moscow, October 2020)
"Examples of patentability disputes with the Russian PTO" (14th annual seminar "IP protection strategies for successful company development", Moscow, April 2016)
"Protection of employers' inventions" (seminar "Aspects of IP legal protection in Russia and abroad", Ekaterinburg, November 2013)
"Draft amendments to the Civil Code (Part IV) and Intellectual Property Court in Russia" (JETRO Seminar, Tokyo, Osaka, Japan, October 2013)
"IP due diligence. Actual approaches" (10th annual Seminar "IP Strategies for Company's Successful Development" Moscow, April 2012)
"Trademark protection in Russia" (JETRO Seminar "Russian IP Law", Tokyo Japan, June 2010)
"Means of individualization of goods, works and services. New regulations based on the Civil Code (Part IV)" (6th annual Seminar "IP Strategies for Company's Successful Development" Moscow, April 2008)
"Well-known trademarks: methodology and procedure of trademark recognition as well known" ("IP protection in the Russian Federation", Nizhniy Novgorod, November 2005; Kiev, May 2006)
"IP rights protection. Patent disputes" (seminar, Nizhniy Tagil, may 2006)
Advising government authorities on improving IP legislation in Russia.
Advising international organizations on IP issues in Russia.
IP due diligence of Russian nuclear industry organizations and the largest Russian bank.
Advising a large Colombian company on licensing issues in Russia and CIS.
licensing support for a large Dutch company.
Patents' litigation support of US pharmaceutical companies.
Consulting a US computer company on their inventions' legal protection in Russia.
Representation of a Japanese manufacturer of home appliances in the Russian PTO and in courts in their trademarks protection cases.