Nadezhda Bannikova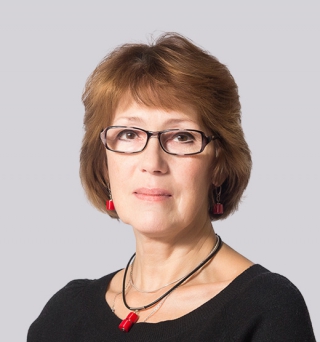 Partner
Russian Patent Attorney
Eurasian Patent Attorney
Deputy Head of Сhemical & Life Sciences Department

Moscow
send message
Education

I.M. Sechenov First Moscow State Medical University (1972-1978)
Russian State Academy of Intellectual Property (1985-1987)

Trainings

«Vossius & Partner» (Munich, Germany) (1999)

Experience

Institute of Physical chemistry and Electrochemistry (IPCE RAS) (1981-1985)
Federal Institute of Industrial Property (1985-1989)
Sojuzpatent (1989-1998)
Gorodissky and Partners since 1999

Languages
Patents in the field of:

Production of basic chemical products
Chemical pesticides and related agro-chemical products
Production of pharmaceutical preparations and related materials
Production of drugs
Medical products
Detergents, cleaning and polishing products
Production of perfumes and cosmetics
Water purification

Technical fields:

General organic chemistry
Chemistry of biologically active substances
Pharmaceutics
Agricultural chemistry
Perfumery
Cosmetics

Objects:

Low-molecular organic compounds
Biologically active substances, in particular intermediates and dues, drugs, veterinary drugs, pesticides, agrochemicals, detergents, disinfectants, cosmetics and perfumes
Methods, technologies of their production, separation, analysis and application
Methods of treatment, prevention and diagnostics
Presentations
"Invalidation and Appealing procedures. Ways to succeed" (9th annual seminar "Obtaining and enforcement of IP Rights in Russia", St. Petersburg, August, 2013)
"Appealing and Invalidation procedures RU and EA invention patents (prosecution, comparison, life examples)" (8th annual seminar "Obtaining and enforcement of IP Rights in Russia", Moscow, September 2012)
"Pharmaceutical patents under Eurasian and national patent systems Similarities and differences" (5th annual seminar "Obtaining and enforcement of IP Rights in Russia", St. Petersburg, August 2008)
Successful representation of major companies in patent cases in courts, the Chamber for Patent Disputes and the Eurasian Patent Office
Consulting an innovative Russian pharma company on choosing a patent strategy in Russia, USA, European countries and in China.
Representation of large pharmaceutical companies in appealing against patent grant in the spheres of medicine, personal care pharmachemistry and pharma technologies in the Russian PTO.
Technical and legal evaluation for Russian and foreign companies (working in the sphere of agrochemistry, pharmaceutical chemistry, pharmaceutical technologies, etc.) and consulting on their patent rights infringement and potential third party`s rights infringement.