GORODISSKY & PARTNERS
PATENT AND TRADEMARK
ATTORNEYS IP LAWYERS
since 1959
About us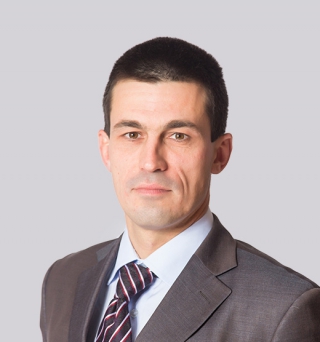 Alexander Vladimirov
Russian Patent Attorney
Eurasian Patent Attorney
Moscow
send message
Education

Russian Aviation Technology University (1990–2001)

Trainings

Vossius & Partner (Munich, Germany) (2005)
Meissner Bolte (Munich, Germany) (2012)

Experience

Institute of Physics and Technology RAS (1999–2003)
Gorodissky and Partners since 2003

Languages
Patents in the field of:
Computers and other types of data processing equipment
Integrated circuits, micro-assembles and micro-modules
TV and radio transmission equipment, telecommunications apparatus
Apparatus for receiving, recording and playback of sound and image signals
Video monitors and video projectors
Electric sound equipment
Recording and play-back audio and video equipment
Antenna technology
Apparatus and instruments for measuring, monitoring, navigating, testing, controlling and other purposes
Instruments and apparatus for the automated regulation and control
"Current trends of IP protection in a wireless telecom field" ("Patenting", 2006)
Technical expert support of a large foreign company in a patent court case relating to storage and data transfer.
Personnel training of electronics company`s rep office in Russia on a strategy of selection and preparation of specifications for a further patent application in Russia.
Advising a large foreign company, specializing in research, geological exploration and production of natural resources, on expediency of infringement proceeding regarding the company`s software.
Representation of international companies in appeal cases against patent refusal (inventions in the field of computer related medical equipment) in the Russian PTO.