Elena Nazina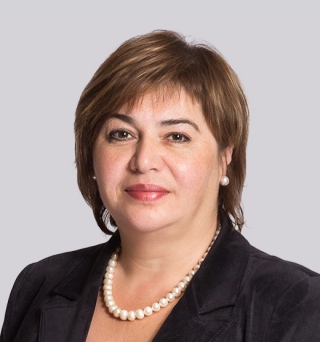 Partner
Russian Patent Attorney
Eurasian Patent Attorney
Head of Сhemical & Life Sciences Department

Moscow
send message
Education

D. Mendeleyev University of Chemical Technology of Russia (1979–1985)
Franklin Pierce Law Center (Concord, USA) (1995)

Membership

Chamber of patent attorneys
AIPPI
Council of the Eurasian Patent Attorneys

Experience

State Research Institure of Organic Chemistry and Technology (1985–1994)
Sojuzpatent (1994–1999)
Gorodissky and Partenrs since 1999

Nominations

Member of the Board of the Chamber of Patent Attorneys since 2013

Languages

Reference

LMG Life Sciences
The Best Lawyers©
MIP IP Stars
WIPR Leaders
IAM Patent 1000
The Top 250 Women in IP
Patents in the field of:

Crude oil and natural gas
Drilling for crude oil, gas, & shale
Manufacture of petrochemicals
Chemical Manufacturing
Production of basic chemical products
Production of dyes & pigments
Manufacture of basic organic chemical products
Manufacture of fertilizers and nitrogen compounds
Chemical pesticides and related agro-chemical products
Manufacture of paint and other surface-coatings
Manufacture of pharmaceutical preparations and related materials
Manufacture of medicines
Detergents, cleaning and polishing preparations
Manufacture of cosmetics, perfumes and related toiletries
Manufacture of lubricants, additives for lubricants, and anti-freeze

Technical fields:

General organic chemistry
Chemistry of biologically active substances
Pharmaceutics
Agricultural chemistry
Perfumery
Cosmetics
Petrochemistry

Subjects:

Low-molecular organic compounds
Biologically active substances, in particular intermediates and dyes, pharmaceuticals, including preparations for animal use, pesticides, agrochemicals, detergents, disinfectants, cosmetics and perfumes
Products of oil and gas refining
Methods, technologies of their acquisition, separation, analysis and application
Methods of treatment, prevention and diagnostics

Membership

Chamber of patent attorneys
AIPPI
Council of the Eurasian Patent Attorneys

Reference

LMG Life Sciences
The Best Lawyers©
MIP IP Stars
WIPR Leaders
IAM Patent 1000
The Top 250 Women in IP
"Current practice of patenting new crystalline forms of biologically active compounds in the Russian Federation" ("Patent Attorney" Magazine, № 4, 2023)
"Current practice of patenting new crystalline forms of biologically active compounds in the Russian Federation" (The Patent Lawyer Issue 68 by CTC Legal Media, September/October 2023)
"A point of principle" (LSIPR Spring 2021 by Newton Media Limited, June 2021)
"The principle of "narrower-wider" - a general rule or an exception when assessing the condition of patentability of an invention "novelty"?" ("Patent Attorney" Magazine, № 3, 2021)
"Pharmaceutical inventions and patent term extension procedure" (IAM Life Sciences 2019 by Globe Business Media Group, April 2019)
"Additional patent: opportunities and challenges" ("Patent attorney", #1, 2017)
"Extending patent terms in Russia and CIS countries" ("Life Sciences 2015" IAM, 2015)
"Application Of The Doctrine Of Equivalents" (Gorodissky and Partners Information Bulletin, № 3 (100) 2014)
"Extension Of Patents For Pharmaceuticals And Agrochemicals" (Gorodissky and Partners Information Bulletin, № 3 (78) 2011)
"Prolongation of patent validity period: current issues" ("Patent attorney", 2005)
"Peculiarities of patent protection in the sphere of chemistry, medicine and biotechnology" ("Pharmateca", № 3, 2000 (co-author N. Lebedeva))
Presentations
"Eurasian or National Patent Office – How to Make a Right Choice?" (Gorodissky seminar "Eurasia: New IP Horizons", Dubai, October 2023)
"Patent protection of pharma inventions in Eurasia, Russia and India" (20th Gorodissky annual seminar "IP Protection Strategies for Successful Company Development", Moscow, June 2022)
"The use in the claims of signs characterizing the intervals of values" (18th Gorodissky annual seminar "IP Protection Strategies for Successful Company Development", Moscow, October 2020)
"Strategies of Patent Protection for Compositions in Russia (Eurasian Countries)" (Seminar "Obtaining and Enforcement of Intellectual Property Rights in Russia", Moscow, September 2019)
"Prolongation of validity period of pharmaceutical patents" (11th annual seminar "IP Strategies for Successful Company's Development", Moscow, April 2013)
"Pharma patent term extensions — law and practice" (8th Annual seminar "Obtaining and Enforcement of Intellectual Property Rights in Russia", Moscow, September 2012)
"What way to choose for pharma patents in Russia — national or Eurasian?" (7th Annual seminar "Obtaining and Enforcement of Intellectual Property Rights in Russia", Moscow, September 2010)
"Pharmaceutical patents under national and Eurasian patent systems. Similarities and differences" (5th Annual seminar "Obtaining and Enforcement of Intellectual Property Rights in Russia", Saint-Petersburg, August 2008 (co-speaker Nadezhda Bannikova))
"Chemical and pharma patents" (4th Annual seminar "Obtaining and Enforcement of Intellectual Property Rights in Russia", Kiev, Ukraine, August, 2007)
"Appealing against Examiners decisions and validity of patents in the Chamber of Patent Disputes of the Russian PTO and the Eurasian Patent Office" (1st Annual seminar "Obtaining and Enforcement of Intellectual Property Rights in Russia", Moscow, September 2004 (co-speaker Sergey Dorofeev))
Successful representation of major companies in patent cases in courts, the Chamber for Patent Disputes and the Eurasian Patent Office.
Consulting Russian companies, working in the fields of: pharmaceuticals, animal drugs, crop protection and oil & gas refining, on forming a patenting strategy in Russia and abroad.
Representation of Russian American, European and Japan pharmaceutical companies in objection cases against patent grant in Russian PTO and courts and in cases on infringement of exclusive rights of patent owners.
Technical and legal evaluation for a large Russian, American, European and Japan companies (specializing in agricultural chemistry, pharmaceutical chemistry, pharmaceutical technologies, etc.) and giving opinion on patent rights infringement and potential third party`s rights infringement.