Denis Ashikhin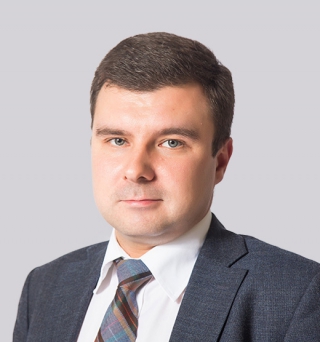 Russian Patent Attorney
Eurasian Patent Attorney
Mechanics Department

Moscow
send message
Education

National University of Science and Technology (MISiS) (1998–2003)
UK Intellectual Property Office (Newport) (2004)
Russian State Academy of Intellectual Property (2002–2005)

Trainings

Boehmert & Boehmert (Munich, Germany) (2008)
Vossius & Partners (Munich, Germany) (2012)
Hoffmann Eitle (Munich, Germany) (2013)

Experience

Federal Institute of Industrial Property (2003–2007)
Gorodissky and Partners since 2007

Languages
Patents in the field of:

Forging, pressing, stamping and rolling
Manufacture of machinery and equipment for agriculture and forestry
Manufacture of machinery used in the cultivation of plants
Manufacture of machinery for forestry
Manufacture of machines
Manufacture of portable hand-held power tools
Manufacture of mechanical tools for working with metal
Manufacture of equipment to forge and press metal
Manufacture of machinery and equipment for metallurgy
Manufacture of machinery for mining, quarrying and building
Manufacture of motor vehicles, trailers, and semi-trailers
Manufacture of internal combustion engines for motorized vehicles
Manufacture of passenger cars
Manufacture of trucks
Manufacture of special-purpose motorized vehicles
Manufacture of ships, aircraft, spacecraft and other transport vessels
Manufacture of aircraft and spacecraft
Manufacture of turbo-jet and turbo-prop engines along with their components and replacement parts
Manufacture of helicopters and other flying machines
Manufacture of motorcyles and bicycles
Manufacture of scooters and motorized carriages
Generation, transmission and distribution of electricity, natural gas, steam and hot water
Thermal power plant
Production of hydroelectricity
Production of electricity by nuclear power plants
Presentations
"Patenting inventions abroad" (Seminar "Patenting inventions abroad: why, where and how", Moscow, November 2018)
"IP use in business" (Seminar "IP protection in Russia and abroad. New perspectives", Samara, June 2017)
"Planning patent protection in Russia as part of Eurasian regional strategy" (BRICS IP Forum, London, November 2016)
Representation of a large Japan automaker in appealing against a patent grant in Russian PTO.
Advising and assistance in suppression against IP rights infringement of European company, producer of floor coating.
Developing a patenting strategy, filing an application and granting a patent in Australia and Iceland on a technology of primary aluminium production, developed by a large Russian scientific center.
Developing a patenting strategy and filing an application for a large Russian mailing company.
Consulting a large Russian mining company on using third party`s patents.