Anatoly Nistuk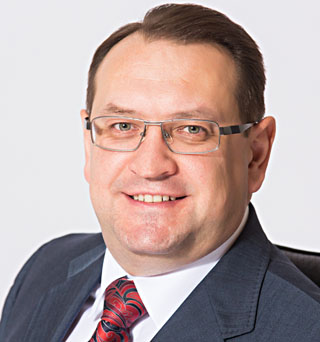 Russian Patent Attorney
Eurasian Patent Attorney
Ph.D
Electronics & Physics Department

Moscow
send message
Education

Lomonosov Moscow State University of Fine Chemical Technologies (1990–2001)

Trainings

Albihns АВ (Stockholm, Sweden) (2004)

Experience

Shubnikov Institute of Crystallography of the Russian Academy of Sciences (1999–2002)
Gorodissky and Partners since 2002

Languages

Russian
English
German
Belarussian
Patents in the field of:

Mining and processing of uranium ores
Mining and processing of rare metal ores
Production of basic inorganic chemical products
Electrolysis of aluminum
Forging, pressing, stamping and rolling
Powder metallurgy
Manufacture of welding equipment
Surface heat treatment and thermal spraying
Manufacture of pulp, paper and paperboard
Manufacture of machinery and equipment for production of paper and paperboard
Manufacture of household electric appliances
Manufacture of aerosol generating devices
Tobacco industry
Chemical sources of power
Semi-conductor components
Manufacture of glass and glass products
Fiberglass production
"Approaches to Patenting Alloys in Russian & Eurasian Patent Offices" (Metallurgist magazine Issue 6, 2021)
"Approaches to patenting alloys before the Russian and the Eurasian patent offices" (The Patent Lawyer Issue 52 by CTC Legal Media, January / February 2021)
"Li3Fe2(PO4)3 solid electrolyte prepared by ultrasonic spray pyrolysis method" ("Solid State Ionics", v. 139, no. 1–2, 2001 (co-authors A.Ivanov-Shitz, N. Chaban)
"Li3Sc2-xFex(PO4)3 thin films and powders prepared by ultrasonic spray pyrolysis" ("Solid State Ionics", vol. 144, no. 1–2, 2001(co-authors A.Ivanov-Shitz, N. Chaban)
"Growth and conductivity of Li3(Sc1-xFex)2(PO4)3 thin films prepared by ultrasonic spray pyrolysis" ("Thesis's of International Symposium on Soft-Solution Processing", Tokyo, Japan, 2000 (co-authors A.Ivanov-Shitz, N. Chaban)
"Peculiarities of synthesis of a superion conductors on the base of&nbspLi3М2(PO4)3 by pyrolysis of ultrasound dispersed solutions" ("Theses of lectures at the All-Russian conference "Kinetics of electrode processes and ion-electronic transport in the solid electrolytes", Ekaterinburg, 2000 (co-authors A. Ivanov-Shitz and N. Chaban)
"Structure and conductivity of Na3PO4 single crystals» («Crystallography", vol. 45, #6, pp.982–986, 2000 (co-authors A. Ivanov-Shitz and others)
"Synthesis of a superion conductor Li3Fe2(PO4)3 by pyrolysis of super dispersed solutions for electrochemical gas sensors ("Theses of lectures at the international conference "Glasses and solid electrolytes", St. Petersburg, May 1999 (co-authors A. Ivanov-Shitz and N. Chaban)

Presentations

"IP Protection in China" (Moscow Innovation Cluster Foundation webinar, Moscow, June 2021)
"Use of features defining ranges of values in patent claims" (18th Gorodissky annual seminar "IP Protection Strategies for Successful Company Development", Moscow, October 2020)
"Alternative fuel vehicle technologies protection in Russia" (9th annual seminar "Obtaining and enforcement of intellectual property rights in Russia", Moscow, August 2013)
Advising and assistance in suppression of patent rights infringement (invention in the field of aluminum products production) for a large Russian metallurgical company.
Forming a patent strategy, application filing and acquisition of patent in Australia and Iceland on a technology of primary aluminium production, developed by a large Russian scientific center.
Consulting the Russian Academy of Sciences, and forming a patent strategy (inventions concerning technology of protection of valuable documents by physical and chemical methods against tampering) in Europe, USA, Canada, Japan and South Korea.
Consulting a large Russian mining and metallurgical company and Finnish innovative company on: strategies and practices of patenting in different countries; preparation, filing and examination of applications; allocation of patent rights. Domestic and international patent prosecution of their joint invention in the field of ore processing.
Joint patenting of PCT applications for a leading Russian producer of titanium products and a large titanium products consumer.
IP service delivery in Canada, Europe and USA for a new Russian company (invention in the field of electrochemical power sources) including: patenting strategy development, patent search, prosecution of applications until patent grant.
Drafting joint applications for electronic engineering global producer and a number of scientific research institutes of Russian Academy of Sciences (inventions in a wide range of fields including: semiconductor materials, liquid crystals, light-sensitive recording mediums, laser equipment, photodiode technics, photonics, magnetic recording mediums, methods of producing of nanoparticles and nanostructured materials, alloys, etc.).