Ekaterina Mosina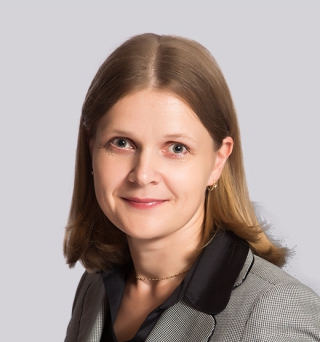 Russian Patent Attorney
Eurasian Patent Attorney
Chemical & Life Sciences Department

Moscow
send message
Education

Lomonosov Moscow State University of Fine Chemical Technologies (1991–1997)
Institute of Molecular Genetics of the Russian Academy of Sciences (1997-1998)
Russian State Academy of Intellectual Property (2001–2004)
WIPO (2003, 2014)

Trainings

Russian Patent Office (2000)

Experience

Laboratory of Protein Engineering of Institute of Molecular Genetics of the Russian Academy of Sciences (1995–1998)
«Kvashnin, Sapelnikov and Partners» IP law firm (1998–2012)
Gorodissky and Partners since 2012

Languages
Patents in the field of:

Production of food and beverages
Pulp, paper and paperboard production
Chemical pesticides and related agro-chemical products
Production of pharmaceutical preparations and related materials
Production of drugs
Medical products
Detergents, cleaning and polishing products
Production of perfumes and cosmetics

Technical fields:

Biotechnology
Genetic engineering
Molecular and cell biology
Cytology
Microbiology
Virology
Immunology
Biochemistry

Objects:

Food
Preparations for agriculture
Preparations for industrial and domestic use
Drugs, including veterinary drugs
Diagnostics tools
Methods of their production and application
Methods and techniques for producing recombinant RNA and DNA, genes isolation from an organism (cells), gene manipulation
Cells, stem cells, microorganism strains
Vaccines, methods of their production and application
Products of genetic engineering, in particular, genes and proteins, transgenic cells, plants and animals
Methods of treatment, prophylaxis and diagnosis
"Synthesis and Physicochemical Properties of Schiff Bases of Amino Acids with Salicylaldehyde" (Russian Journal of Bioorganic Chemistry № 21, 1995 (co-authors E. Yu. Lurie, A. A. Efremova, A. P. Kaplun, and v. I. Shvets)
Presentations
"Patents: asset or load?" (OpenBio Conference, September 2022)
"Pandemics and Vaccines. A Patent View" (Webinar "Pandemics and Vaccines. A Patent View", Moscow, June 2021)
Representation of foreign pharmaceutical and chemical companies in appealing cases against patent grant and objection cases against patent refusal in the Russian PTO.
Consulting Russian companies and research institutes on choosing the patenting strategy and obtaining of patent protection in Russia, USA, Canada, EU, CIS, China, India, South Korea, Mexico, Australia, New Zealand, South Africa and Japan.
Consulting a large pharmaceutical Indian company and a large glass company on patenting issues in Russia and EAPO.