Julia Domracheva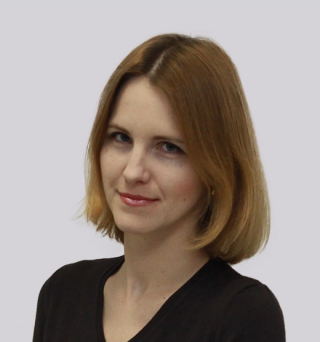 Kazan
send message
Education

Kazan National Research Technical University named after A. N. Tupolev ("Biotechnical and medical apparatuses and systems", engineer, 1998–2004)
Courses of the Tatarstan Republican Society of Inventors (2002–2003)
Advanced Training Courses of the Academy of National Economy at the Russian Government (2004)

Trainings

Johnson & Johnson (Norderstedt, Germany) (2017)

Experience

Kazan National Research Technical University named after A. N. Tupolev (2000–2004)
Tatarstan Chamber of Commerce and Industry (2004–2005)
«DEST» company (2005–2006)
Tatarstan Republican Society of Inventors (2006–2007)
Tatarstan Center of Scientific and Technical Information (2007–2008)
Gorodissky and Partners since 2008

Languages
Patents in the field of:

Medical instruments
Diagnostic & therapeutic equipment
Targeted medical products
Manufacture of industrial cooling & ventilation equipment
Electrical lamps & other lighting equipment
Crude oil and natural gas
Presentations
"Trademarks' role in company's IP portfolio formation" (IP Seminar "Obtaining and enforcing of trademark rights under contemporary reality", Kazan, August 2014)
Representation of Russian medical equipment companies in appealing cases against patent grant and objection cases against patent refusal in the Russian PTO.
Consulting a Russian medical equipment company on preparing and filing applications for medical equipment invention and forming the patenting strategy in Russia and abroad.
Consulting Russian companies on IPRs protection for inventions, utility models, trademarks and industrial designs.
Successful representation of a large Russian company at the Chamber of patent disputes in the case on previous cessation of international registrations due to non-use. As the result registrations were nullified.
Spoke in the Tatarstan Court as an independent expert in the case of a trademark infringement. The Court's decision was made in accordance with the given arguments.