Valentin Kirillov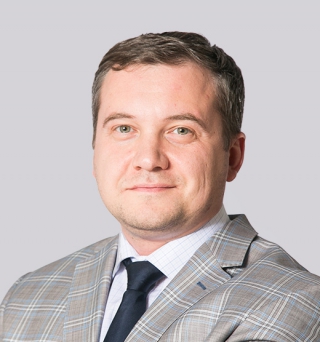 Partner
Russian Patent Attorney
Eurasian Patent Attorney
Mechanics Department

Moscow
send message
Education

Bauman Moscow State Technical University (1995–2002)

Trainings

Vossius & Partners (Munich, Germany) (2006)
Albihns AB (Stockholm, Sweden) (2007)
Boehmert & Boehmert (Munich, Germany) (2012)

Reference

Notable practitioner
by MIP IP Star

Experience

Federal Institute of Industrial Property (2002–2005)
Gorodissky and Partners since 2005

Languages
Patents in the field of:

Computers and other types of data processing equipment
Artificial intelligence systems
Production of automobile tires and tire accessories
Manufacture of pumps, compressors and hydraulic systems
Manufacture of lifting and handling equipment
Manufacture of machinery and equipment for agriculture and forestry
Manufacture of motor vehicles, trailers and semi-trailers
Manufacture of internal combustion engines for motorized vehicles
Manufacture of passenger cars
Manufacture of autobuses
Manufacture of trucks
Manufacture of special-purpose motorized vehicles
Manufacture of ships, aircraft, spacecraft and such transport vessels
Manufacture of railroad rolling stock (locomotives, tram motor carriages and other rolling stock)
Manufacture of power sources and engines for aircraft and spacecraft; devices for the rapid take-off of aircraft, aircraft deck braking devices; ground-based simulators for flight crews; component and replacement parts
Manufacture of turbo-jet and turbo-prop engines along with their component and replacement parts
Manufacture of jet and rocket engines together with their related component and replacement parts
Manufacture of helicopters and other flying machines
Manufacture of motorcyles and bicycles
Manufacture of scooters and motorized carriages

Reference

Notable practitioner
by MIP IP Star
""We are not welcome anywhere": six myths about patenting abroad" (RBCpro.ru, November 2021)
"Good bye, patent troll!" ("Patent attorney" № 5/ 2013)
Presentations
"Eurasian patent system: key features, advantages, procedure" (Gorodissky seminar "Expansion of IP Horizons in Eurasia", Moscow, April 2021)
"Comprehensive approach to the legal protection of hardware and software solutions" (EAPO online training "Features of examination of inventions implemented using a computer, including inventions in the field of artificial intelligence", Moscow, March 2021)
"Eurasian or National Patent System? Which Way to Go?" (Seminar "Obtaining and Enforcement of Intellectual Property Rights in Russia", Moscow, September 2019)
"Artificial intelligence yesterday, today and tomorrow. Ways of patent protection" (Seminar "Robotization of modern production", St. Petersburg, March 2019)
"Artificial Intelligence in the Transport Field: Myth or Reality?" (Seminar "Transport of the future", Nizhny Novgorod, September 2018)
"Getting National & Eurasian Patents in Russia" (Seminar "Russian IP System" held by KPAA (Korea Patent Attorneys Association), Seoul, October 2016)
"IP transactions, Trade Secrets and Litigating" (JIPII's Seminar (Japan Institute for Promoting Invention and Innovation), Tokyo, October 2016)
"Key points of filing, examination of different IP subject matters and judicial practice in Russia" (JPAA's Seminar (Japan Patent Attorneys Association), Tokyo, October 2016)
"Utility models: Is it the end of the cheating era?" (13th annual seminar "IP strategies for successful company's development", Moscow, April 2015)
"How to protect a bicycle in Russia" (12th annual seminar "IP strategies for successful company's development", Moscow, April 2014)
"Utility models: present & future" (9th Annual seminar "Obtaining and Enforcement of Intellectual Property Rights in Russia", Saint Petersburg, September 2013)
"A new look at utility models protection" (11th annual seminar "IP Strategies for successful company's development", Moscow, April 2013)
"Filing stage know-how" (8th Annual seminar "Obtaining and Enforcement of Intellectual Property Rights in Russia", Moscow 2012)
Representation of a large Russian furniture company in court.
Representation of a leading Japanese company (auto parts manufacturer) in an appeal against patent grant in Russian and Eurasian PTOs.
Assistance in a patent defense case for a leading gas-producing Russian company against third party's invalidation attempt in the Chamber of Patent Disputes.