Elena Baikovskaya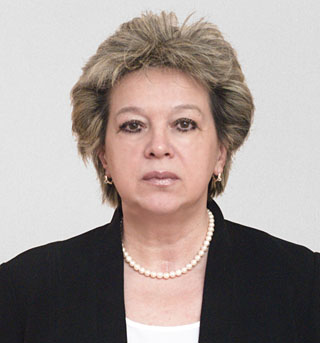 Ekaterinburg
send message
Education

Ural Federal University (1977-1982)
Higher State Courses on Patent Law and Inventive Activity (Ekaterinburg) (1988)
Russian State Academy of Intellectual Property (1990-1992)
Russian Federal Center of Forensic Expertise under the RF Ministry of Justice (certificate valid till June 2015)

Reference

Experience

OJSC Uraltransmash (1982-2004)
Gorodissky and Partners since 2007

Languages
Inventions and utility models
Trademarks and service marks

Reference
Presentations
"Utility models patenting after changes in the regulatory system on individual cases examples" (Seminar "Intellectual Property in the Activity of Companies", Ekaterinburg, April 2018)
"Protection of IP objects and means of individualization" (II Ural innovational forum, Ekaterinburg, November 2012)
"Protection of IP results: the patent law" ("Industrial Cooperation Forum", Ekaterinburg, November 2010)
"The basic IP issues" (municipal program of small and medium business support, Ekaterinburg, May-June 2010)
Prosecution of patent applications, which formed base for the doctoral thesis "Development of electric arc spraying technology on the base of modelling gas and metals interaction and property research of the coverings".
Infringement search for the "tram" object.
Prosecution of patent application for one of the best 100 inventions in Russia in 2013.
Initiative and judicial patent examinations and objections for the Chamber of patent disputes.
Representation before court and Chamber of patent disputes, including patent nullification cases.
Successful IPRs protection and defense of several large Sverdlovsk companies.