Marina Kolesnikova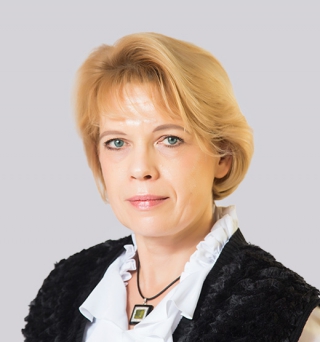 Russian Patent Attorney
Eurasian Patent Attorney
Chemical & Life Sciences Department

Moscow
send message
Education

Lomonosov Moscow State University (1975–1980)
Russian State Academy of Intellectual Property (1993–1995)

Experience

Russian Patent Office (1987–1997)
Euromarkpat (1997–2006)
Gorodissky and Partners since 2006

Languages
Patents in the field of:

Production of food and beverages
Production of pre-cooked and preserved food
Chemical Manufacturing
Production of basic chemical products
Production of industrial gases
Production of dyes and pigments
Manufacture of basic organic chemical products
Production of fertilizers and nitrogen compounds
Chemical pesticides and related agro-chemical products
Manufacture of paints and other coatings
Manufacture of paints and other surface-coatings
Production of pharmaceutical preparations and related materials
Production of drugs
Targeted medical products
Detergents, cleaning and polishing products
Manufacture of perfumes and cosmetics
Manufacture of lubricants, additives for lubricants and anti-freeze
Water purification

Technical fields:

General organic chemistry
Chemistry of biologically active substances
Biological chemistry
Pharmaceuticals
Agricultural chemistry
Perfumery
Cosmetics

Objects:

Low-molecular organic compounds
Biologically active substances, in particular: drugs, veterinary drugs, pesticides, agricultural chemicals, detergents, disinfectants, cosmetics and perfumes
Methods, technologies of their production, separation, analysis and application
Methods of treatment, prophylaxis and diagnosis
Consulting a US pharmaceutical company on obtaining patent protection in Russia.
Representation of international and Russian companies in appealing against patent grant (patents in the field of pharmachemistry and medicine) in the Russian PTO.
Representation of a leading foreign pharmaceutical company in court.
Technical and legal evaluation for Russian and foreign pharmaceutical companies and consulting on their patent rights infringement and potential third party`s rights infringement.
Consulting Russian pharmaceutical companies on a patenting strategy in Russia and abroad.