Antonina Vereshchagina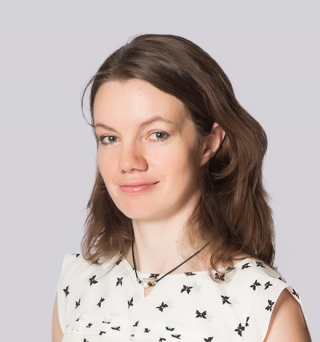 Russian Patent Attorney
Eurasian Patent Attorney
Ph.D
Chemical & Life Sciences Department

Moscow
send message
Education

Higher Chemical College of the Russian Academy of Sciences (1995–2000)
Institute of Bioorganic Chemistry of the Russian Academy of Sciences (2008)

Trainings

Hoffmann Eitle (Munich, Germany), (2009)

Experience

Russian pharmaceutic company (2006–2008)
Gorodissky and Partners since 2008

Languages

Russian
English
French
German
Patents in the field of:

Crude oil and natural gas
Extraction of oil from shale
Drilling for oil, gas and shale
Mining and processing of iron ores
Mining and processing of non-ferrous ores
Mining and processing of rare metal ores
Mining minerals for chemical processing and production of fertilizers
Production of natural silk, artificial, and synthetic fibers
Production of bio-fuels
Pulp, paper and paperboard production
Production of petrochemicals
Chemical production
Production of basic chemical products
Production of industrial gases
Production of dyes and pigments
Manufacture of basic organic chemical products
Manufacture of fertilizers and nitrogen compounds
Manufacture of plastics and other synthetic products in their primary forms
Manufacture of paints and other coatings
Detergents, cleaning and polishing products
Manufacture of lubricants, additives for lubricants, and anti-freeze
Manufacture of rubber and plastic products
Production of automobile tires and tire accessories
Semi-conductor components

Technical fields:

General organic chemistry and technology
Petrochemistry
Polymeric chemistry

Objects:

Methods and technologies of production of organic substances, products of oil and gas refining and polymeric materials
Methods and technologies of chemical wastes treatment
Compositions for oil wells treatment
"Docetaxel containing lyophilized emulsion retains its properties" ("Proc. International student forum", Omaha, Nebraska, USA, June 2008 (co-authors S. Uglanova, N.Klyachko, Yu. Golovin, v. Korenkov, Yu. Abrikosova, R.Ivanov))
"Properties of docetaxel-containing nanoemulsion as a dosage form" ("Proc. XVI International Conference on Bioencapsulation", Dublin, Ireland, 2008 (co-authors S.Uglanova, Yu. Golovin, v. Korenkov, Yu. Abrikosova, R.Ivanov, N.Klyachko))
"Synthesis and reaction capacity of 2-tiasolyl-1-ethanols: abstract of dissertation for Ph. D. in chemistry" (Lomonosov Moscow State University, the faculty of chemistry, chair of organic chemistry, 2008)
"Synthesis of pirasolin-1H-3-ones derivatives on the basis of 2'-N-substituted monohydrozides of cyclo hexane dicarboxylic acids 1007. Synthesis of substituted and condensed tetra-hydrospyro[bens-2-azepinecyclohexanes] of 1-ciano and 1-carbamoil-5-methyl-4.5-dehydro-3H-spiro[bens-2-azepine-3,1'-cyclohexanes]"("Chemistry of heterocycle compounds", N7(457), 2005 (co-authors I.Mikhura, I.Popova, A. Formanovsky)
"Using the metalation reaction for obtaining substituted 2-(5-methyl-2-tiasolyl)ethanols" ("Chemistry of heterocyclic compounds", N 7, 2005 (co-authors I.Mikhura, I.Popova, A. Formanovsky))
"Peculiarities of synthesis of substituted and condensed 2-metil-1,3-tiasoles" ("Chemistry of heterocyclic compounds", N8 (458), 2005 (co-authors I.Mikhura, I.Popova, A. Formanovsky))
"Synthesis and Molecular Structures of Co2(CO)6-n(PPh3)n[μ-C2(CH2R)2] (R=CH2OH or CH2sCMe3) Derivatives Containing Chelated [cpFe(CO)2]2Sn- or w(CO)4- Fragments" (Journal of Organometallic Chemistry, 2000 (co-authors A.Pasynskii, Y.Torubaev, F.Denisov, R.Valiullina, G.Alexandrov, K.Lyssenko)
"Synthesis and molecular structures of pi-acetylene tetra cobalt decarbonyl "butterfly" clusters [(CO)8Co4(μ-C2R2), где R=CH2OH или CH2SCMe3" (non-organic chemistry magazine "Coordination compounds", part 45, N 6, June 2000 (co-authors A. Pasynsky, Yu. Torubaev, K. Lysenko, R. Valiullina)
"Heterometallic clusters based on functionalized acetylenes" (international conference "Metallic and organic compounds — materials of the third millennium" (III Razuvaev Readings), Theses, May-June 2000 (co-authors A. Pasynsky, Yu. Torubaev, K. Lysenko, F. Denisov, R. Valiullina)
"Synthesis and molecular structure of MnW carbonyl complex with a bridge product of isomerization of monotiolat-substituted butanediol" ("Non-organic chemistry" magazine, part 45, № 1, 2000 г. (co-authors A. Pasynsky, Yu. Torubaev, P. Kitaev, K.Lysenko)
"Peculiarities of synthesis, molecular structure and thermal destruction of trinuclear phenyl telluride of cobalt carbonyl cluster Со3(СO)3(μ-CO)(μ-TePh)5" ("Non-organic chemistry" magazine, Part 43, № 6, 1998 (co-authors A. Pasynsky, Yu. Torubaev, Zh. Dobrohotova, K. Lysenko, v. Novotvortsev)
"Synthesis and molecular structures of binuclear carbonyl tungsten complexes with phenyl-tellurion bridges" ("Coordinational Chemistry", Part 24, № 10, 1998 (co-authors A. Pasynsky, Yu. Torubaev, A. Drukovsky, v. Lyalikov, I. Skabitsky, K. Lysenko, S. Nefjedov)
Representation of foreign and Russian pharmaceutical and chemical companies in appealing cases against patent grant and objection cases against patent refusal in the Russian PTO.
Evaluation and giving opinion on possible Russian and Eurasian patent rights infringement for Russian companies.
Consulting Russian companies, working in the sphere of organics production technologies development, on forming a patent strategy in Russia and abroad.