Dmitry Klimenko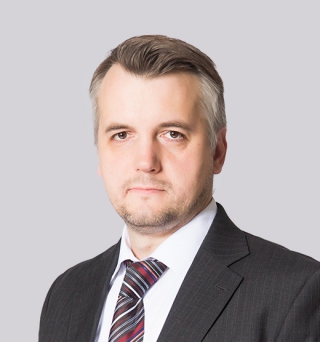 Ph.D.
Russian Patent Attorney
Eurasian Patent Attorney
Chemical & Life Sciences Department

Moscow
send message
Education

Lomonosov Moscow State University (1987–1993)
University of Leeds (UK) (1995–1999)

Experience

Engelhardt Institute of Molecular Biology Russian Academy of Sciences (1993–1995)
University of Leeds (UK) (1996–1997)
Yale University (USA) (2000–2007)
Gorodissky and Partners since 2008

Languages
Patents in the field of:

Production of food and beverages
Production of natural silk, artificial and synthetic fibers
Production of bio-fuels
Pulp, paper and paperboard production
Chemical pesticides and related agro-chemical products
Production of pharmaceutical preparations and related materials
Production of drugs
Medical products
Detergents, cleaning and polishing products
Production of perfumes and cosmetics

Technical fields:

Biotechnology
Genetic engineering
Molecular and cellular biology
Cytology
Microbiology
Virology
Immunology
Biochemistry

Objects:

Food
Agrochemicals
Preparations for industrial and domestic use
Drugs, including veterinary drugs
Diagnostics tools
Methods of their production and application
Methods and techniques for producing recombinant RNA and DNA, genes isolation form an organism (cells), genetic manipulation
Cells, stem cells, microorganism strains
Vaccines, methods of their production and application
Antibodies, methods of their production and application
Products of genetic engineering, in particular, genes and proteins, transgenic cells, plants and animals
Methods of treatment, prophylaxis and diagnosis
"Protecting biopharmaceutical inventions in Russia and Eurasia" (IAM Life Scienses 2017)
"Crystallization and preliminary X-ray crystallographic studies of RepDC, a hybrid rolling-circle plasmid replication initiator protein" ("Acta Crystallographica Section D: Biological Crystallography", 1999 (co-authors Convery M.A., Rowsell S., Thomas C.D., Phillips S.E.)
"DNA mobility in crystals of a nonspecific lambda cro/DNA complex" (Journal of Biomolecular Structure & Dynamics, 1995 (co-authors Chernov B.K., Malinina L.V.)
Presentations
"Protection of Innovations in Biotechnology: Inventions and Breeding Achievements" (10th Russian Biotechnology Forum OpenBio-2023, Novosibirsk, September 2023)
"Pandemics and Vaccines. A Patent View" (Webinar "Pandemics and Vaccines. A Patent View", Moscow, June 2021)
"Enforceability and infringement of second medical use claims" (The MIP International Patent Forum 2019, London, March 2019)
"Pharma Patent extension" (BRICS IP Forum 2017, Paris, October 2017)
"Extending patent terms Russia and CIS" (16th C5's Pharma Patent Extensions Forum, Munich, May 2017)
"Enforcing Patents in Russia and CIS" (15th International Forum on Pharmaceutical Patent Term Extensions, Munich, June 2016)
"Patent protection strategies in Russia" ("MIP Global IP & Innovation Summit 2014", Shanghai, China, September 2014)
"Patenting pharmaceutical inventions in Russia and Eurasia" (Sweden, October 2013)
"Legal issues on protection and enforcement of IP rights in Russia" (seminar "Update on Biopharma IP Issues in Growth Markets: Russia, China, India, Korea & Brazil", New Jersey Intellectual Property Law Association (NJIPLA) and Association of Corporate Counsel (NJCCA), New York, USA, May 2013)
"What route to choose for biotech patents in Russia: NATIONAL OR EURASIAN?" (8th Annual seminar "Obtaining and Enforcement of Intellectual Property Rights in Russia", Moscow, September 2012)
Consulting foreign and Russian companies and research institutes on a patenting strategy issues in Russia, USA, European Union countries, CIS countries, China and Hong Kong.