GORODISSKY & PARTNERS
INTELLECTUAL PROPERTY
& TMT PRACTICE
About us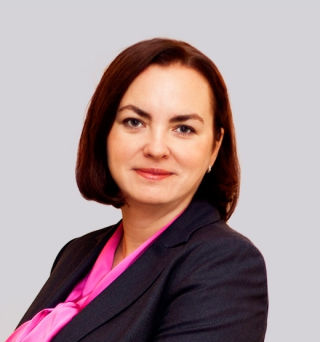 Daria Yosef
Regional Director

Perm
send message
Education

Perm National Research Polytechnic University (1988–1994; 1998–2002)
Open University (UK) (2011–2012)
Russian State Academy of Intellectual Property (2012)
Russian Fund of Technological Development (2012)
Licensing Executives Society International (LESI) (2012)

Trainings

Splanemann, Patentanwälte Partnerschaft — European Patent Attorneys (Munich, Germany) (2012, 2013)

Membership

State Counsellor 2nd Class
LES International

Experience

Perm commodity and stock Exchange (1992–1993)
Perm Department of the Federal Tax Service (1993–2007)
Administration of the government of Perm region (2007–2008)
Perm Department of Industry, Innovations and Science (2008–2011)
International Agency for Commercialization of Innovation (2011–2012)
Gorodissky and Partners since 2012

Reference

Awarded by certificate of honour of the Ministry of Regional Development for personal contribution to the development of the Perm region

Nominations

Member of the Council on entrepreneurship and improving the investment climate in the Perm Krai since 2017
Perm cluster of information and communication technologies Board Member since 2017
Public assistant to the Commissioner for the protection of the entrepreneurs rights in the Perm Krai in IP since 2017

Languages
Copyright and neighboring rights
Technology transfer
Tax law
Labor law
IPRs protection and anti-counterfeiting
Unfair competition and false advertising

Membership

State Counsellor 2nd Class
LES Russia

Reference

Awarded by certificate of honour of the Ministry of Regional Development for personal contribution to the development of the Perm region
"Methods for evaluating the brand of the auction house" ("Intellectual Property. Industrial Property", #9, 2015)
"Future of IP auctions in Russia" ("Intellectual Property. Industrial Property", #3, 2015)
"IP Auction "RUSINPRO-2013" ("Unido in Russia" magazine, #12, 2013)
Presentations
"Private law and civil process in the digital age: are classical institutions sufficient?" (IX Congress of scientists-lawyers "Legal regulation of society digitalization of society. Priority tasks", Perm, October 2018)
"The patent auctions practice" (IV regional Conference "Regional IP market development: analysis and calculation of IP subject matters' costs and their commercial turnover", Kazan, June 2017)
"Analysis of the Volga Federal District subjects innovation activity" (Seminar for organizations-participants of Perm Krai innovative clusters, Perm, April 2016)
"Analysis of the Volga Federal District subjects innovation activity" ("Intellectual Property Days in the Perm Krai", Perm, April 2016)
"IP auctions in Russia: practice and results" (IP congress EXPOPRIORITY'2014, Moscow, April 2014)
Participated in development of the law On Administration and Disposal of the Intellectual Property of Perm Region adopted on 25.12.2009.
Successful pre-trial protection of a large Swiss company against unlawful trademark use by liquidation of stores in Perm region and Tyumen region.
Advising on state support for exporting companies in the field of foreign patenting, patent/marketing research of foreign markets.
Advising on IP commercialization and formation of an innovative strategy for subjects of technological entrepreneurship.
IP auctions Management.