Anna Degtyareva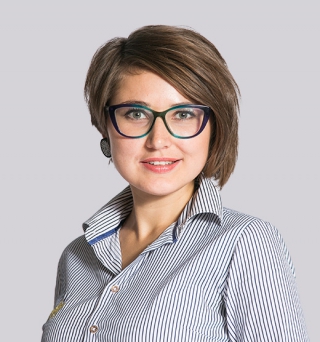 Lawyer
Legal Department

Moscow
send message
Education

Lomonosov Moscow State University (2004–2010)

Trainings

Schlütius Eulitz Schrader Rechtsanwälte (Hamburg, Germany) (2009)
Meissner, Bolte (Munich, Germany) (2015)

Experience

Nonprofit partnership «Lawyers for civil society» (2008–2009)
State Duma of the Federal Assembly of Russian Federation (2009–2010)
Moscow office «Gowlings International» (2010–2013)
Gorodissky and Partners since 2013

Languages
Trademarks
Protection of rights for IP, combatting counterfeit production and parallel import
IP deals
Customs registration of IP
Internet and domain names
Advertising
Unfair competition
Presentations
"Higher EAEU countries' investment attractiveness as a business development basis" (Eurasian Week Forum, Astana (Kazakhstan), August 2017
"The MONCLER trade mark defense, detection of counterfeit goods. Some issues of cooperation between IPRs holders and customs bodies" (Regional seminar on protection of IPRs by the Russian customs bodies, Krasnodar, November 2015)
"IP legal aspects of the Customs Union" (12th annual seminar "IP Strategies for Company's Successful Development", April 2014)
Representation of a large Japanese company in commercial court against parallel importer.
Consulting Russian and foreign companies on the use and disposal of IP rights, preparation and registration of license agreements and franchising agreements.
Represented a large Italian company, producer of cloths in a case against a manufacturer of counterfeit goods; as a result, counterfeit products were withdrawn from the market by police and destroyed.
Elimination of sales of counterfeit clothes online and in shops labelled with trademarks of a large US company manufacturer of clothes.
Participation in the project of copyright registration for a large US coffee company.
Recording of IP of European and Japanese companies in the Customs Register and representation of the companies in administrative court cases.