Tatiana Pogrebinskaya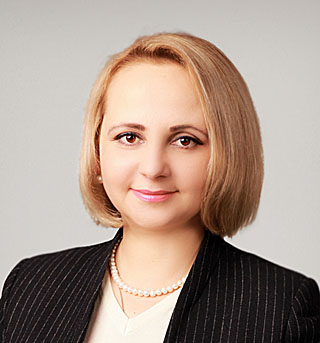 Counsel
Counsels Department

Moscow
send message
Education

Kutafin Moscow State Law University (1993–1998)
Russian State Academy of Intellectual Property (1998–2003)

Experience

Federal Institute of Intellectual Property (1999–2003)
Russian State Institute of Intellectual Property (1999–2002)
Gorodissky and Partners since 2003

Languages
Trademarks and service marks
Appellations of origin and geographical indications
Registration and cancellation of trademark legal protection
"How Can the Self-Employed Register Their Personal Brand as a Trade Mark?" (Sostav.ru, July 2023)
"Self-Employed Citizens Gained the Right to Register Trademarks" (Moscow Guild, June 2023)
"New Year's trademark: can it be registered?" (Rusability, December 2020)
"Offensive Trademarks Raise Doubts, or not?" (The Global IP Matrix magazine, issue 8, October 2020)
"What an Entrepreneur Needs to Know About a Trademark" (RBC Pro, August 2020)
"Means of individualization: company's names, trade marks, appellations of origin of goods, commercial designations. Civil law protection in the Russian Federation: collection of schemes" ("Garant" system, 2011, 2012, 2014, 2016 (legal database))
"Key Russian PTO administrative cases of 2015" (Intellectual Asset Management (IAM) - International report, April 2016)
"New procedure for recognition of trademark as well known" (World Trademark Review - daily, February 16 2016)
"What should we know about a trademark" ("My business" newspaper, August 2014 (co-author O. Stepina)
"Trademarks — surnames: some aspects of Russian law application practice" (collection of material of the international scientific law enforcement conference "Intellectual Property: looking into the future", 2014)
"Medici" found to be misleading for certain Class 32 goods" ("World Trademark Review Daily", 2013)
"Garlic smell refused trademark protection" ("World Trademark Review Daily", 2013)
"Surnames as trademarks — legal protection in Russia" ("Garant" system, 2013 (legal database)
"Some aspects of trademark registration in Russia — the surnames" (analytical review, Rospatent publishing center (INIC), 2013)
"Certification mark of the customs union and trademark" (report collection "V international forum "Intellectual property — XXI century", Moscow, 2012)
"Amendments of the Russian Civil Code issues of Russia`s joining WTO in autumn 2012" ("IP protection. Business seminar. Reports (30th May 2012), Financial Times publishing center, 2012)
"Trademarks of Bolshoi theatre vs. "BOLCHOJ VODKA" ("Garant" system, 2011 (legal database)
"Means of individualization: company's names, trade marks, appellations of origin of goods, commercial designations. Civil law protection in the Russian Federation: collection of schemes" ("Infotropic", 2011)
"My name — trade mark" ("The new legislation and juridical practice", № 1, 2009)
"My name — trade mark" (Gorodissky and Partners Information Bulletin, № 2 (54) 2008)
"Conformity to the public interests, humanity and moral principles as a condition of trademark protectability in Russian Federation" (dissertation, 2003)
"Conformity to the public interests, humanity and moral principles as a condition of trademark protectability in Russian Federation" (abstract of a scientific paper, 2003)
"Practice of attribution designations filed for trademark registration to those adverse to the public interests, humanity and moral principles" (Rospatent publishing center (INIC), 2003, (co-author S. Gorlenko)
"Some aspects of geographical indications registration in Russian Federation" (Rospatent publishing center (INIC), 2003, (in co-authors S. Gorlenko and N. Lozhkina)
"Consultations. Rospatent specialists answer the readers' questions" ("IP. Industrial property", № 5, 2003)
"The theory of state and law" (guidance manual (Chapter 1) and Lecture Course (Chapter 2), 2002 (edition of docent PhD v. Motyljeva and docent PhD A. Larin)
"Application of law provisions, prohibiting registration of trademarks adverse to the public interests, humanity and moral principles" (theses of the scientific and practical conference reports "Problem issues of theory and practice of industrial property and some copyright objects protection in Russia", Federal Institute of Industrial Property, 2002 (co-author S. Gorlenko)
"Trademark rights infringement: amendments and supplements to the Russian law "About trademarks, service marks and names of origin" (Collection of works of the Russian State Academy of Intellectual Property postgraduates in three parts, the 2nd part "Intellectual property: legal, economic and social issues", Russian State Academy of Intellectual Property, 2002)
"Prohibition of trademark registration conflicting to public interests" ("Legal protection, commercial use and social problems of intellectual property. Theses of the reports of the Rospatent system employees, young specialists, postgraduates and competitors at the science and practical conference", Russian Academy of Intellectual Property, Moscow, December 2002)
"A trademark and a domain name in the Internet" ("The basis of the state and law", #3, 2000 (co-author A. Ageenko)
"Collision of trademark rights with rights and interests of copyright holders" (collection of reports of the Russian State Academy of Intellectual Property postgraduates "Intellectual Property Problems", 2000)
"Assignment agreement on patent grant and patent assignment" (collection of reports of the Russian State Academy of Intellectual Property postgraduates "Intellectual Property problems", Part 1, 1999)
"Assignment agreement on application filing to the PTO, assignment agreement on patent grant, patent assignment agreement and requirement of state registration" ("Legal protection, commercial use and social problems of intellectual property. Theses of the reports of the Rospatent system employees, young specialists, postgraduates and competitors at the science and practical conference", 1999)
Presentations
"Peculiarities of name and surname use as a trademark" (Conference "Features of IP protection", Kaluga, June 2022)
"Some aspects of name and last name use in trademarks of fur industry" (International forum of fur and leather industry InterFORUM 2022, Moscow, March 2022)
"Science role in the innovative development of society" (III International Conference of Young Scientists "Intellectual Property: Looking to the Future", Moscow, October 2021)
"IP legal protection abroad" (Expert online session for Moscow IT and electrotech companies by the Moscow Export Center, Moscow, September 2021)
"The Basics of IP Protection" (LES International webinar "TEEN's IP DAY", Moscow, May 2021)
"Using personalization equipment to protect the corporate identity of the company" (Round table "Intellectual Property: How to Protect the Corporate Identity of the Company", Moscow, April 2021)
"Countering the spread of counterfeiting in the field of folk art crafts in Russia" (IPRC's 3rd International Conference on Intellectual Property, Yerevan, September 2019)
"Legal protection of trademarks for export goods and services" (Seminar "Legal protection of intellectual property subjects abroad", Moscow, November 2018)
"Legal protection of trademarks abroad" (Forum "Russian goods - a single brand of quality. Made in Kaliningrad. Made in Russia", Moscow, April 2018
"Educational project "Gorodissky IP School"" (Round Table "Universities' inventive activity increase – the key factor of the country's innovative development" of the 21st Moscow International Salon of Inventions and Innovative Technologies "Archimedes-2018", Moscow, April 2018)
"Individualization of Business in Terms of Current Pipeline" (16th annual seminar "IP protection strategies for successful company development", Moscow, April 2018)
"Legal protection of means of individualization", "The key aspects of trademark legal protection" (Section "Means of individualization" of WIPO Summer School on IP, Moscow, July 2017)
"International trademark registration procedures" (3-rd IP seminar Gorodissky IP School, Dubna, May 2017)
"Review of the regulatory bylaw amendments" (14th annual seminar "IP protection strategies for successful company development", Moscow, April 2016)
"Main amendments of the Russian Civil Code in the part of individualization means of goods" (seminar "Basics of IP protection in Russia. Amendments in the sphere of protection of means of individualization of goods, works and services. Disposal of rights (licensing, franchising)", Perm, November 2014)
"Two components of a "trademark" concept" (X Interregional Business Forum "Strategy and practice of successful business", Cheboksary, November 2014)
"Trademark protection considering the Russian Civil Code amendments" (seminar "Topic issues of IP protection and defense", Krasnodar, October 2014)
"Two components of a "trademark" concept" (science and practical conference "Legal protection and efficient management of IP rights in innovative activity of companies", Kaluga, September 2014)
"Two components of a "trademark" concept" (IP Seminar "Obtaining and enforcing of trademark rights under contemporary reality, Kazan, August 2014)
"Two components of a "trademark" concept" (seminar "Legal look on trademark" in the frame of the Tula entrepreneurs Forum, Tula, May 2014)
"Two components of a "trademark" concept" (thematic consultations "Legal look on trademark", Moscow, Orel, Voronezh, 2014)
"Aspects of using surnames in trademarks" (12th annual seminar "IP protection strategies for successful company development", Moscow, April 2014)
"Trademarks: the concept and the criteria for registration" (seminar "Important aspects of IP legal protection in Russia and abroad", Ekaterinburg, November 2013)
"Interaction of the licensor and licensee: benefits and risks of the parties" (International Brand Licensing Salon (Licensing Expo), Moscow International Franchise Forum BUYBRAND EXPO 2013, Moscow, October 2013)
"Surnames as trademarks: some aspects of the Russian enforcement practice" (International conference "IP: sight into the future", Moscow, October 2013)
"Contradiction to the public interests, humanity and moral principles as a reason for a trademark registration refusal" (11th annual seminar "IP protection strategies for successful company development", Moscow, April 2013)
"Amendments to the 4th part of Russian Civil Code and issues of Russia`s joining WTO in autumn 2012" (seminar "IP Protection", St. Petersburg, May 2012)
"Previous cessation of trademark due to non-use" (10th annual seminar "IP protection strategy for successful company development", Moscow, April, 2012)
"EAC-mark and trademark" (V International forum "Intellectual Property — XXI century", Moscow, April 2012)
"A stakeholder of cessation of trademark due to non-use: aspects of term definition" (seminar of the scientific club of the Russian State Academy of Intellectual Property", Moscow, October 2011)
"Correlation of rights on means of individualization and collision thereof" (9th annual seminar "IP protection strategies for successful company development", Moscow, April 2011 (co-speaker N. Radchenko)
"My name — trade mark" (8th annual seminar "IP protection strategies for successful company development", Moscow, April 2010)
"Prohibition of trademark registration conflicting to public interests" (2nd science and practical Rospatent conference "Problem legislation issues concerning protection of IP objects", Federal Institute of Industrial Property, Moscow, December, 2002)
"Practice of attribution designations filed for trademark registration to those adverse to the public interests, humanity and moral principles" (science and practical conference "Problem issues of the theory and practice of industrial property and some copyright objects protection in Russia", Rospatent, Moscow, October 2002)
"Assignment agreement on application filing to the PTO, assignment agreement on patent grant, patent assignment agreement and requirement of state registration" (scientific and practical Rospatent conference: for young specialists, postgraduates and competitors, Russian State Academy of Intellectual Property, Moscow, 1999)
Organization of thematic consultations «Legal look on trademark» and participation as a lecturer.
Preparation and publication of analytic survey «Some aspects of trademark registration — surnames in Russia» in «Patent» magazine; the publication took the first place at the Best IP periodical International competition (IP BOOKS — 2014) in the nomination «The Right of industrial property».
Preparation and publication of diagram collection «Means of individualization: company names, appellations of origin, trademarks» in «Infotropic Media» and in the legal database «System GARANT».