Tatiana Korovina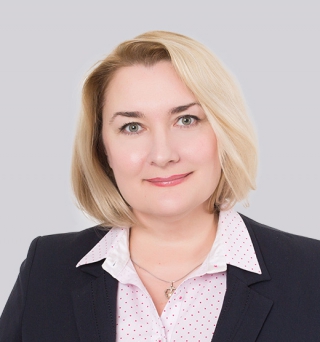 Regional Director

Samara
send message
Education

Moscow State University (1988–1993)

Experience

Rodnik Distillery of Samara (1999–2011)
Gorodissky and Partners since 2011

Languages
Trademarks and service marks
Appellations of origin and geographical indications
Copyright
IP objects disposal agreements
Examination of conflicting designations' similarity degree
Legal representation
"IP protection in current conditions" (Kommersant-Volga, December 2022)
"Protection requires an integrated approach" ("Samara review", #64 (1327), September 2014)
Presentations
"Software: how to protect your developments" (Interregional Conference "IP as an Impulse for Science and Technology Development in Regions", Samara, February 2023)
IP portfolios optimization and managing for large Russian companies (manufacturers of bearings, aviation equipment, constructing materials, furniture, food products, beverages); filing required paperwork and agreements.
Successful representation of a large Russian beverage manufacturer in a case of pre-term cessation of several trademarks protection due to non-use; as a result the client's trademarks were registered.
Examination of disputable designations on identity and similarity up to degree of mixture for a large Russian oil company.
Consulting a Russian company on trademarks protection issues in connection with counterfeit and parallel import to the territory of the Customs Union; registration in Customs IP Registers of Russia, Belorussia and Kazakhstan.
Consulting a large Russian company on technologies transfer issues and licensing/sublicensing patent rights; due diligence of technologies and patent rights; filing required paperwork and agreements; registration of licenses and sublicenses in Russian PTO.